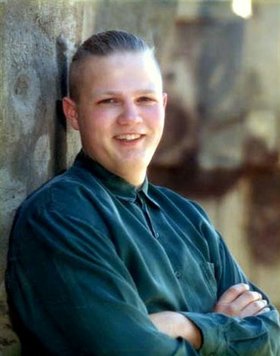 Phillip Justin Perrin
February 17, 1979 - August 6, 2011
Phillip Justin Perrin, a resident of Dublin, Calif., passed away peacefully and unexpectedly in his sleep on Saturday, Aug. 6, 2011, at home. At 32, he was far too young - and too dear to us - to lose. He is so deeply missed; his sense of humor and strength in the face of many challenges was an inspiration to us all. He touched many lives and will be fondly remembered by everyone.
Phil was born Feb. 17, 1979, in Milwaukee, Wis., and graduated in 1997 from Hood River Valley High School in Ore.
Phil learned he was a diabetic at the same time he started high school and quickly learned how to manage it without it interfering with a full life. He was a great example to many who struggled with diabetes.
He worked in the IT industry for more than 15 years (Portland, Ore., Milwaukee, Wis., Los Angeles and Dublin, Calif.) and just recently had gone back to school to work on his art and animation skills which is the new career he was looking forward to achieving. He had a quick, wicked sense of humor and a big heart, and enjoyed heavy metal music, Fear Factory, computers, online gaming (Mortify - aka "one more map") and was a big Green Bay Packers fan.
Phil is survived by his parents, father Bill Perrin and stepmother Liz Osborn, of Dublin Calif., and his mother, Mary Perrin, of Wauwatosa Wis. He is also survived by his sister Nicole, of Madison, Wis.; brother Christopher (wife Tracy) and nieces Haley and Amber, of Wauwatosa, Wis.; grandmother Jean Perrin, of Milwaukee, Wis.; and other uncles, aunts and cousins.
He was very fond of "his" two cats, Cleo and Tigger, who dearly miss him.
The family would like to thank and acknowledge the outstanding care that helped Phil immensely the last few years by Drs. Susan Gutierrez, Brad Gould, Viktor Novikov and Mahmood Kazemi. He really appreciated and valued their interest and concern to help him - and the friendships that developed.
Phil had an impact on all who knew him. He is missed and it's a comfort to know he's with his grandfather whom he greatly missed, exchanging jokes and bad puns.
As an expression of sympathy, contributions to his memorial fund for the Juvenile Diabetes Research Foundation (JDRF) would be appreciated by the family. (http://jdrfevents.donordrive.com/campaign/pjp) Final arrangements for a Celebration of his Life that will be held in Milwaukee, Wis., are pending.