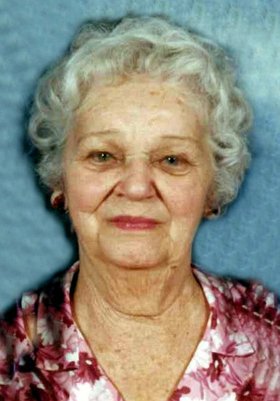 Essie M. Hausinger
July 13, 1917 - January 3, 2011
Essie M. Hausinger passed away Jan. 3, 2011, at Ashley Manor of Hood River, Ore. Essie was born July 13, 1917, in Hood River, the last of six children born to Theodore and Jessie (Pember) McIlwain. She lived most of her life in the Hood River Valley near the mountain she loved.
In September of 1936 she married Aloise J. Hausinger and they had three sons: Harold, Donald and Ronald.
She always had a garden and did a lot of canning of veggies and fruits until her later years. The family always loved their yearly huckleberry trips.
Essie loved camping by a lake or river; she didn't fish but loved to get in the water and paddle around. Timothy Lake and her many trips to the coast were her favorites.
She loved her family more than anything and is survived by her sons, Harold "Hal" (and Barb) Hausinger, of Parkdale, Ore., and Ronald "Ron" (and Karen) Hausinger, of North Bend, Wash.; seven grandchildren and six great-grandchildren.
Essie was preceded in death by her parents; husband in 1990; son Donald in 2008; sisters Eileen, Hazel, Marie and Violet; and brother, Cobe.
She was an avid lover of cats and has always had one in her life and that is why family suggests memorials to the Hukari Animal Shelter in care of Anderson's.
Services are planned for 2 p.m., Friday, Jan. 7, at Anderson's Tribute Center, 1401 Belmont Ave., Hood River, Ore. Family friend and celebrant speaker Bob Huskey will officiate. Private graveside rites at Mountain View Cemetery will follow.
Please visit www.ander­sonstributecenter.com to leave a note of condolence for family.