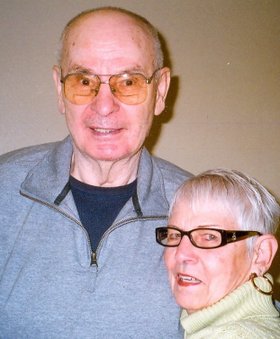 William "Dennis" Mathews
October 6, 1928 - January 16, 2011
On Sunday, Jan. 16, 2011, William "Dennis" Mathews died as a result of complications due to Parkinson's disease.
Born on Oct. 6, 1928 in Fossil, Ore., he was raised there, becoming a start baseball player at Fossil High School. He married Mary Jacqueline Cornish in 1949. They were married for 17 years.
He began his career in the lumber industry at Kinzua Forest Products in Kinzua, Ore. He moved the family to Hood River, Ore., in 1964 where he worked in distribution for the Oregon Journal.
Resuming his career in the lumber industry at Cascade Locks Lumber Co., he then moved to Neal Creek (which later became Hanel Lumber Co.) in 1974.
In 1976, he met and married Beverly McDonald. They have been happily married for 34 years. In 1996, at the age of 64, Dennis retired from Hanel Lumber Co. as a senior grader, after 22 years of employment.
He is survived by his wife, Beverly Mathews; brothers Alan Mathews, of Weed, Calif., and Rick Mathews of Bend, Ore.; daughter, Alison Rivera of Honolulu, Hawaii; and sons, Tim Matthews of Longview, Wash., Nate Mathews of Belfair, Wash., and Pat Mathews, of Honolulu; grandsons, Drew Brathord, Lucas and Peter Schultz, Nick and Jordan Matthews, Keith and Caleb Mathews and Jeff Rogers; granddaughters, April Nelson, Emily Schultz, Julianna Schultz, MaryBeth Bockhoven, Christy Ragel, Becky Mathews and Kara and Elisabeth Mathews; and the sons and daughters of Bev Mathews.
Dennis is also survived by brother-in-law, Thom Leslie, Tucson, Ariz.; and step-daughters and stepsons, Carol Pfaff (Tom), Independence, Ore., Sharon Duggan (Doug), Parkdale, Ore., Cindy Cooper, Independence, Ore., Joseph McDonald, Portland, Ore., David McDonald (Robin), The Dalles, Ore.; granddaughters, Brooke, Sarah, Stacie, Beth, Sybil, Sherry, Jodie and Samantha; grandsons Kurt, Scott, Glenn, Mahlcolm, Michael, Jeff, James and Jon; and their shared 30 great-grandchildren.
Dennis was preceded in death by his parents, and sister, Ann.
Dennis loved reading his western paperbacks and watching old western movies. His other interests included the game of golf and his cairn terrier, Ruffy.
Dennis was loved dearly by his family and friends and will be missed greatly.
A special thank you to Joe and Sue Pounders and Lila Mitchell.
Graveside services will be held at Idlewilde Cemetery at 12 p.m. on Saturday, Jan. 29. Please join us at the Senior Center after the service.