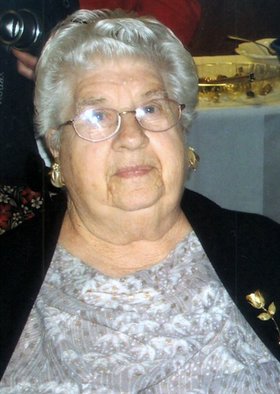 Ada L. Weldon
August 11, 1919 - May 28, 2011
Ada L. Weldon passed away Saturday, May 28, 2011, at her home in Hood River, Ore., surrounded by her loving family. She was born Aug. 11, 1919, to Emery and Elsia Arlint, of Norquay, Saskatchewan, and traveled by covered wagon to Bozeman, Mont., with her family when she was 5 years old.
Ada grew up in Montana and married Vernon Weldon, where they raised three children. They then moved to Hood River in 1972 to be close to family. Her husband preceded her in death in 1976.
Ada loved gardening, taking care of family and sewing. She was loved by all who knew her. Ada was one of Jehovah's Witnesses since 1948 and she was very active and loved to talk about what she believed and the hope of the resurrection to paradise on earth.
She is survived by her son Charles Weldon and daughter, Ruth Larsen. Her son Harold Weldon preceded her in death in 2007. Ada is survived by 11 grandchildren, eight great-grandchildren, one great-great-grandchild and two sisters, Lela and Ruby. She will be missed by all.
Services will be held June 4 at 3 p.m. at the local Kingdom Hall of Jehovah's Witnesses, 1690 Tucker Road, Hood River.