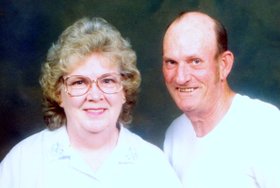 Patrick R. Dougharty
March 3, 1938 - May 27, 2011
Patrick R. Dougharty, 73, died May 27, 2011, at home in Turner, Ore. He was born March 3, 1938, in Cottage Grove, Ore., to Ramon and Loraine "Red and Beans" Dougharty in Parkdale. He grew up in the Hood River Valley and graduated at Wy'east High School in 1957.
Edith A. Dougharty, 75, died April 27, 2011, at home in Turner, Ore. She was born Jan. 24, 1936, in Fort Calhoun, Neb. She grew up in the Boring, Canby and Estacada areas.
Patrick and Edith got married on Oct. 4, 1964, in Troutdale. They lived in Sandy but moved to Stayton in 1970 to raise their family. They moved back to Parkdale in 1990, but returned to Turner in 1996.
They are survived by daughters Cheryl Bradburry, of Aumsville, and Cathy Elliott, of Stayton; sons Allen Koehler, of Stayton, and Bill Koehler, of Parkdale; seven grandchildren, seven great-grandchildren, and Edith's brother, Clyde Robbins, of Boring.
Edith was preceded in death by one brother and three sisters. Patrick was preceded in death by one sister.
Services for both will be June 12 at 3 p.m. at Liberty Christian Church in Salem, Ore. They will be buried together at the Willamette Veterans Cemetery.