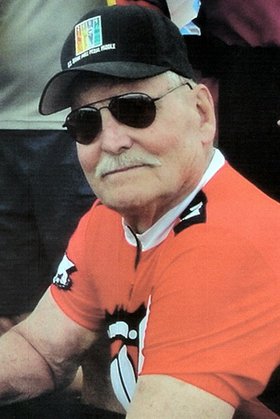 F. "Chuck" Charles Doney
December 16, 1928 - June 6, 2011
F. Charles Doney, "Chuck," of Mosier, Ore., passed unexpectedly on June 6, 2011. Chuck was born Dec. 16, 1928, in Thunderbolt, Ga.
Following his passion, he began flying before the age of 16 using farm fields of Minnesota for his "airports." By the age of 16, he had his pilot's license and it took him all over the country.
He joined the United States Marine Corps and served in the Korean and Vietnam wars, flying reconnaissance missions from aircraft carriers. He retired as a gunnery sergeant in 1969 and then transferred to the Fleet Marine Corps Reserve, where he served until 1977. He served his country for 27 years.
In the 1960s, he was a skydiving stuntman double for the "Ripcord" and "Twelve O'Clock High" TV series, and he had his own skydiving school. His dog would sometimes jump with him, having his own parachute.
Chuck was chief pilot and director of operations at San Juan Airlines in the late 1970s and early 1980s, when he met Denise Janes, his beautiful bride of 29 years.
He loved the outdoors and was an avid skydiver, bicycler, runner and hang glider. The last 18 years he was the cyclist in the Pole Pedal Paddle event in Bend, Ore. He also enjoyed scuba diving in his early years.
He loved life, meeting new people, and enjoyed visiting those he cared about.
He is survived by his loving wife, Denise; sisters Barbara and Betty; daughters Marie and Linda; sons Charles and David; and many wonderful grandchildren and great-grandchildren.
Denise's tribute to Chuck will be held at their home in Mosier, 1779 State Road, on Saturday, June 18, from 2-6 p.m.