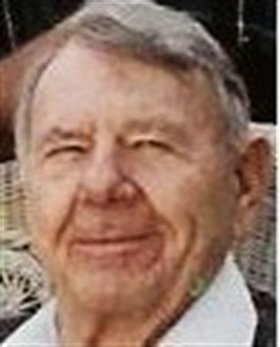 Andrew Byron Nelson
September 4, 1925 - February 15, 2011
Andrew Byron Nelson, 85, passed away at home in Grandview, Wash., surrounded by family on Feb. 15, 2011. Andrew was born at home in Ferron, Utah, on Sept. 4, 1925, to Jess and Jessie (Blackburn) Nelson. He was the oldest son but the fifth child.
Andrew loved the outdoors and spent many a memorable moment with his dad in the mountains around Ferron. Andrew is still famous for putting a cow in the schoolhouse and a horse in the theater. His name is carved on many trees on Nelson Mountain.
Andrew joined the U.S. Marine Corp during World War II and his first action was the invasion on Iwo Jima. He also deployed to Japan during the occupation following their surrender. He learned to speak Japanese and later in life, loved to surprise Japanese tourists in Disneyland and Hawaii by asking and answering their questions in Japanese. He was proud of his service and attended numerous Marine Corp reunions where he could reminisce with his combat buddies.
Andrew met Rosalie J. Lownsdale in the summer of 1947 and they married in December of that year. They had four children: two boys and two girls. Andrew loved his family very much and that love of family and history got him into genealogy. He took great enjoyment presenting new finds to friends and relatives.
He was a Boy Scout leader, swim team coach and was in so many ways "larger than life." He loved to roll his eyebrows to look like horns and chase his kids (and any unsuspecting visiting child) around telling them he was the "red devil from Utah," which elicited much delighted squealing.
Andrew worked for 40 years in the telephone industry. He loved data and information which made him a natural on the computer. He had a very inquisitive mind which resulted in him collecting many "treasures" over the years. He enjoyed puttering around the house and had numerous ongoing projects involving many of those treasures.
Andrew was preceded in death by his parents, Jess and Jessie Nelson; his sisters Aileen, Betty and Jean; granddaughter Lisa and great-granddaughter Jasmine.
He is survived by his wife of 63 years, Rosalie; his sons Gary (Sherry) Nelson, of Sunnyside, Wash., and Andrew (Sylvia) Nelson, of Yakima, Wash., and daughters Ann (Scott) Manley, of Grandview, Wash., and Lesli (Jerry) Shields, of Yakima, Wash.; eight grandchildren, 19 great-grandchildren and one great-great-granddaughter.
Andrew is also survived by his sister, Winifred Mahaffey, of Taylorsville, Utah, and brothers Russell (Connie) Nelson, of Ferron, Utah, and Thad (Pat) Nelson, of Salt Lake City, Utah.
Husband, Dad, Papa, Gpops - you will be missed but you will always be in our hearts. We know you are in a better place.
The family would like to thank the staffs of Kadlec Hospital and Lower Valley Hospice. A memorial service is planned for Saturday, March 26, at 11:30 a.m. at Immanuel Lutheran Church in Grandview., Wash. A military interment will be conducted at a later date at the Washington State Military Cemetery in the Spokane area.