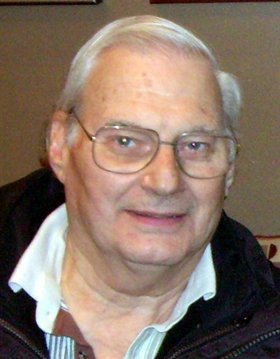 Jerold "Jerry" Frazer
March 23, 1935 - February 27, 2011
Jerold "Jerry" Frazer passed away at home in the arms of his wife Sunday, Feb. 27, 2011, after a two-year battle with colon cancer. Jerry was born to Milton and Frances Frazer (Gill), March 23, 1935, in Dufur, Ore.
He grew up in Dufur and graduated from Dufur High School. He lived in Hood River for a short time after high school then moved to Portland in his early 20s and took a job as a locomotive engineer with the Union Pacific Railroad. In 2003, after 47 years with the U.P. he retired.
Jerry married in his early 20s and had a daughter, Frances "Francie." After many years that marriage ended.
In 1978 he moved to Gresham with his future wife, Beverly. Jerry and Bev married in June of 2003 after more than 25 years together.
Jerry loved to frequent local coffee shops in Gresham to visit with friends and talk politics. He loved and missed his dog, a boxer named Diamond. He was often seen driving around Gresham in his old Volkswagen pickup with her as his co-pilot. She preceded him in death by a couple of months.
Jerry also looked forward to helping his wife care for two of his grandchildren after school a couple of days each week.
Jerry is survived by his wife and daughter as well as a sister, Jeanne Olsen, of Shady Cove, Ore.; four stepchildren, Charles, of Portland, Taylor, of Portland, Gary, of St. Helens and Jami, of Gresham; 12 grandchildren and two great-grandchildren.
At his request no service will be held. The family will be having a casual gathering of family and friends at his stepdaughter's home on Sunday, March 13. All are welcome. Drop by anytime between 1and 4 p.m., 3526 S.W. Wonderview Ave., Gresham, Ore.
In lieu of flowers please make contributions to the American Cancer Society.