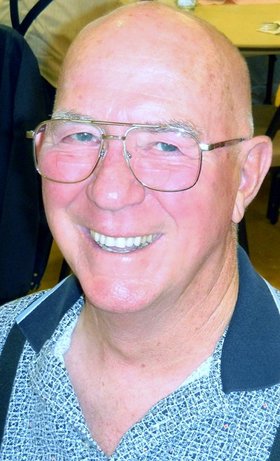 Ronald R. Bennett
September 15, 1931 - March 5, 2011
Ronald R. Bennett was born in Portland, Ore., on Sept. 15, 1931. He was the son of Al and Beryl Bennett.
Ron and his family moved to White Salmon, Wash., in the mid-1930s. Ron had two older brothers, Kirk and James "Bud"; two younger brothers, Robert and Russell, and one younger sister, Joanne, all of whom preceded Ron in death.
Ron joined the army in 1952. After returning home, he married Lucille Huskey of Mosier, Ore., on Sept. 4, 1954.
Ron is survived by his wife, Lucille Huskey Bennett, of White Salmon, Wash.; their three daughters, Rhonda and Bob Hicks of Camas, Wash., Cindy and Scott VanGelder of Vancouver, Wash., and Kathy and Larry White of Carnation, Wash.; 10 grandchildren; and numerous nieces and nephews.
Over the years, Ron and Lucille added two more daughters to the family: Becky and Ed Powell, of Trout Lake, Wash., and Bridget and Ruel Suazon, of Toronto, Canada. They also "adopted" many other children and grandchildren.
Ron worked for SDS Lumber Co. for many years as a road grader operator. He then worked for the Klickitat County Road Department, retiring in 1994. He was known by all as a fine "blade man."
Ron loved helping others, whether it was plowing someone's driveway, helping with the local food drive or helping out at his local church or senior center. He also enjoyed gardening, spending time with friends and family and dancing. He and Lucille danced together for over 60 years.
Ron went home to be with his Lord on March 5, 2011, surrounded by his family. A memorial service will be held at Grace Baptist Church, 1280 W. Jewett Blvd., White Salmon, Wash., on Sunday, March 27, at 2 p.m.
In lieu of flowers, donations may be made to Hospice Southwest or the Ray Hickey Hospice House, both of Vancouver, Wash.