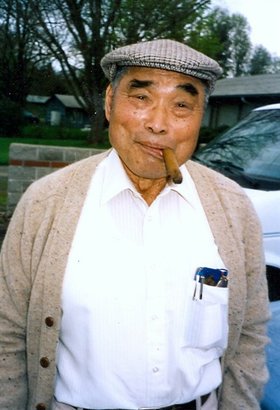 Mitsuge "Mits" Tamiyasu
January 29, 1923 - May 13, 2011
Mitsuge "Mits" Tamiyasu, beloved husband, father, grandfather, brother, uncle, friend and neighbor, passed away peacefully at home Friday, May 13, 2011.
He was 88 years old.
Mits, the fourth of eight children, was born in Hood River Jan. 29, 1923, to Gunichi and Chisao Tamiyasu. He attended Oak Grove Elementary School and Hood River Junior High and High School, graduating with the class of 1941.
During the tumultuous years of World War II, he and his family, along with all persons of Japanese descent on the West Coast, were relocated to internment camps until the war's end. Mits lived in camps based in Heart Mountain, Wyo., and Tule Lake, Calif., during this period. He later returned to farm the family orchard in Hood River.
In 1957, he met and, following a whirlwind romance, married Jean Kiyomura of Portland. They celebrated their 53rd wedding anniversary on Aug. 25, 2010.
Mits and Jean raised four children together: Stan, Eric, Teresa, and Ramona.
Mits had a very colorful and adventurous life despite the fact he had lived roughly 80 years of it, remarkably, in same house he was born in. He had a great love of the Valley and the people in it, and never tired of socializing with fellow residents - be they parents, orchardists, mechanics, antique collectors, gardeners, shopkeepers or garage sale browsers. He was a dapper and familiar figure in and about Hood River, often sporting a jaunty hat, with a cigar between smiling lips.
Mits will be well-remembered for his old-fashioned sense of humor, good-natured ribbing and spirited debates. He was charming, funny, smart, opinionated, generous, inquisitive, passionate, creative and intent on participating fully in the world.
In the late 1960s he became the proud Scoutmaster for Cub Scout Pack 371, which included his two young sons.
He worked as a mechanic and millwright for Martin Marietta Aluminum in The Dalles for a number of years, as well as maintaining the Tamiyasu Orchards (cherries, pears, and apples) and growing vast gardens of gorgeous flowers and vegetables.
Virtually every elementary school teacher (and many lucky others in his orbit) was bestowed with random and special gifts of blossoms and produce.
Mits was a wizard at fixing any and all motors, engines and vehicles within his reach; collected various antiques (notably blown-glass baskets, brass bells, Japanese and exotic dolls and unusual furniture); mastered a variety of arts and crafts; enjoyed fishing, huckleberry picking and mushroom gathering in the wild; and was an avid reader, puzzle solver and Western and Japanese film enthusiast in his later years.
He was a member of the Jaycees, the Oregon Japanese American Citizens League, the Oregon Buddhist Church and the Hiroshima Group, as well as Diamond Fruit Growers Association.
Beginning in 1985, Mits belonged to the Hood River Lions Club, a devotion that started shyly with newspaper drives, car-parking at the fair and selling poppies for veterans; then rapidly progressed to delivering corneas for the Lions Eye Bank, attending national conventions, and assisting in humanitarian services for the club in El Salvador.
Mits enthusiastically loved traveling and did much of it through the club - intrepidly exploring Australia, Japan, China, Mexico, Canada, Alaska, Hawaii, Central America and many U.S. cities. With the Lions, Mits forged great and treasured friendships both at home and abroad. Mits was recognized for outstanding humanitarian service in the Lions, and was a past District Governor of the club.
Mits Tamiyasu is survived by his wife, Jean; children Stan (Cindy Honma), Teresa and Ramona (Tom Garafalo); grandchildren Evan Tamiyasu, Christofer Tamiyasu and Benjamin Garafalo; sisters Sue Kouchi, Midori Kondo and Helen Ferguson (Ferg); and many nieces and nephews and their children.
He will be greatly missed by all whose lives he touched.
Charitable donations in Mits' name may be made to the Hood River Lions Club and Heart of Hospice.
A celebration of life will be held for Mitsuge Sunday, May 22, at 3 p.m. at Valley Christian Church. Mitsuge is greatly loved and will be greatly missed.
Arrangements are under the direction of Anderson's Tribute Center (Funerals, Receptions, Cremations), 1401 Belmont Ave., Hood River, OR 97031; 541-386-1000.
Please visit www.andersonstributecenter.com to leave a note of condolence for family.