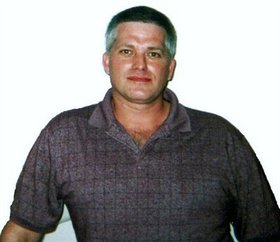 Michael Anthony Blouin
July 12, 1956 - May 19, 2011
Michael Anthony Blouin, 54, passed away at his home in The Dalles, Ore., May 19, 2011. He resided in The Dalles for the past few years but lived in Hood River, Ore., the majority of his life.
Michael was born July 12, 1956, in Vancouver, Wash., to Robert and Alta Blouin, the first born of eight children. He attended Hood River Valley High School.
Michael married in October 1974 to Rena Holt Blouin; they had two children, Angela and Nicolas. He worked for Cannon Bros. Drywall for almost 15 years, then started his own company, Mike Blouin Construction, in 1985. He had a successful business for many years with a grand reputation for his fine craftsmanship and being hard working and gifted, with creative talent and skill.
Michael was a great teacher; he taught many his talents and gifts, from snapping their fingers to drywall. He was adored for his huge, warm heart, kindness, hard work and always willing to do anything for anyone. Michael had a great sense of humor, he had a love for cars, NASCAR in particular; he admired Dale Earnhardt as one of his favorite drivers.
A few things he enjoyed during his life: snowmobiling, family beach trips, wood cutting adventures and playing with the grandkids.
Michael was preceded in death by his mother, Alta.
He is survived by his daughter, Angela Blouin; son, Nicolas Blouin; grandchildren Dimitri, Avien and Madysson Blouin, all currently residing in Phoenix, Ariz.; father, Robert Blouin; sister, Teresa Flores; brother, Rick Blouin; sisters Suzanne Blouin Al-Othman, Barb Blouin Cruz, Cindy Whitefield, Pam Pedersen and Kimi Mejia.
He is also survived by his close friend, caretaker and "adoptive family" Maragaret Bemis, John Dethman and Mike Bosse, and his dog, Misty, who kept him much company in his later days.
A memorial service will be held Saturday, June 4, at 1 p.m. at Underwood Community Center, 951 School House Road, Underwood, Wash. It will be open to the public, with a reception following.
For any who are interested in a memorial contribution, that can be made at the time of the service and the family is greatly appreciative for such.
"Work and live to serve others, to leave the world a little better than you found it and garner for yourself as much peace of mind as you can. This is happiness."