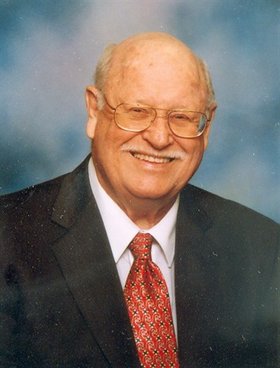 Bob J. Orcutt
July 2, 1929 - November 8, 2011
Visitation for Gresham resident Bob J. Orcutt will be held Monday, Nov. 14, from 9 a.m. to 8 p.m. at Gresham Memorial Chapel, 257 S.E. Roberts Ave., Gresham. A memorial service will be held 11 a.m. Tuesday, Nov. 15, at Portland Christian Center, 5700 S.W. Dosch Road, Portland, followed by a 1:30 p.m. committal with military honors at Willamette National Cemetery.
Bob passed away Nov. 8, 2011, in Portland at the age of 82. He was born Bobby Joe Orcutt on July 2, 1929, in Miami, Okla., the son of Joseph and Pearl (Shockley) Orcutt. Bob spent his early school years in Oklahoma.
The family moved to Parkdale, Ore., where he attended the ninth grade. He attended the 10th and 11th grade in Hood River, graduating from Sweetwater High School in National City, Calif.
Bob continued his education at Vanport College in Portland, then Oregon College of Education in Monmouth, receiving his bachelor's degree in 1952, and master's degree in 1960.
Bob joined the Naval Reserves June 22, 1948, serving until his retirement in 1977.
On June 12, 1953, Bob married Bonnie Collins at the Powell Valley Missions Covenant Church in Gresham.
Bob taught the first 10 years of his teaching career in Milwaukie, followed by 27 years in the Portland area. After retiring from teaching in 1987, Bob taught part-time at Portland State University for 15 years.
Bob started his real estate career in 1988 working for 10 years at ERA Freeman & Associates.
As hobbies Bob enjoyed stamp collecting, gardening, swimming and traveling. He was a member of Portland Christian Center, the Masonic Lodge and a lifetime member of National Education Association.
Bob is survived by his wife, Bonnie, of Gresham; daughter and son-in-law, Rhonda and Doug Cox, of Bend; and son, Robbin Orcutt, of Gresham; brother Forrest Orcutt, of Hood River, and sister, Colleen Schmidt, of Hillsboro.
He was preceded in death by his brother Bill.
The family suggests contributions to be made in Bob's honor to Legacy Hopewell House Hospice, 6171 S.W. Capitol Hwy. Portland, OR 97239.
Arrangements are under the direction of Gresham Memorial Chapel, 257 S.E. Roberts Ave., Gresham, OR 97080; 503-618-9738; www.greshamfuneral.com.