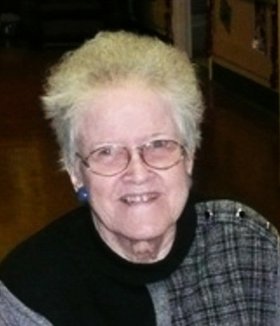 Luella P. Herman
September 1, 1930 - November 28, 2011
Luella P. Herman left this earth on Nov. 28, 2011, to be with her husband, Frank, who passed away July 22, 2011. Luella was born on Sept. 1, 1930, in Lacrosse, Wis., to Lloyd and Pearl (Young) Van Riper.
When she was 9 years old the family moved to Parkdale, Ore., where her dad owned an orchard. She graduated in 1948 and attended a business college in Portland.
Luella married Frank Herman Aug. 19, 1951, and they made their home in Pine Grove. They have two sons, Gordon and Don. Luella was a very caring mom and provided a wonderful home for her husband and sons.
With Frank and the boys, horses were a constant and Luella always made sure they had clean shirts and jeans for the many horse shows they attended. Her family was her life and she always made sure she had summers off when the boys were young so she could be home with them.
Her many jobs included the phone company, bank teller, secretary for the school district and she retired from Wells Packing House. She was a hardworking and devoted employee and in the young years of her boys' lives the employers she had worked for always wanted her back at summer's end.
When grandchildren were born, Luella was a grandma they loved to be with. She constantly spoiled them with her love and affection and allowing them to make mud pies out in the arena was a favorite of theirs; maybe not so much hers, but she enjoyed watching them have fun.
As her grandkids got older she never missed a school performance, athletic event, birthday or holiday to be with them. Her grandkids were the light of her life.
Luella is survived by her son Gordie, son Don and his wife, Wendy, and their children Kara, Tommy, Milo and Madee; her brother Wayne, sisters Violet, Elmina and Blanche and the youngest brother, Earl. She has many cousins, nieces and nephews.
A graveside service will be held at 1 p.m. Saturday, Dec. 3, at the Pine Grove Cemetery where she will be laid to rest next to her husband Frank. The family wishes to thank the Hood River Care Center for their care of Luella during her stay the past four months.
Arrangements are under the direction of Anderson's Tribute Center (Funerals, Receptions, Cremations), 1401 Belmont Ave., Hood River, OR 97031; 541-386-1000. Please visit www.andersonstributecenter.com to leave a note of condolence for family.