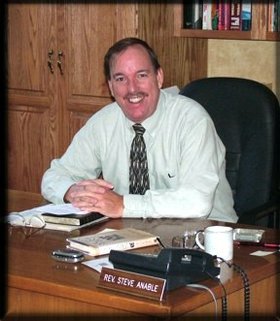 Steven "Steve" Eugene Anable
February 15, 1956 - September 24, 2011
Steven "Steve" Eugene Anable, 55, a resident of The Dalles, Ore., died to be with Christ early Saturday morning, Sept. 24, 2011, following an extraordinarily courageous 32-month battle against stage IV colon cancer. He fought valiantly until his last breath and passed peacefully at home surrounded by his family.
Steve was born on Feb. 15, 1956, in Spokane, Wash., the firstborn child to Ronald Eugene and Betty Ruth (Hunt) Anable. Steve has one brother, Darrel Anable, and one sister, Debbie (Anable) Fought.
Steve's family moved to Renton, Wash., in 1958. Steve attended elementary school, junior high and senior high school in the Renton area. He graduated from Issaquah High School in 1975. He used to joke about repeating the third grade, saying, "I liked third grade so much I took it twice!"
Steve worked several jobs for three years before deciding to pursue college. He attended Judson Baptist College from 1978-82, both at Portland, Ore., and The Dalles, Ore., when the college moved to a larger campus in 1980. He earned an associate degree in science in 1980, and a Bachelor of Science degree in recreation, camping and youth ministries in 1982.
Steve liked to joke, saying he "majored in PLAY!" He also attended Western Conservative Baptist Seminary in Portland, Ore., from 1984-88, and earned a Master of Arts in church education in 1987 and a Master of Divinity degree in 1988.
Steve later became ordained at South Tacoma Baptist Church.
On July 10, 1982, Steve married his best friend, Marilyn Thackery, at North Albany Baptist Church. Over the 29 years they were married, they lived in 14 houses and lived in eight cities, including living in The Dalles three times!
They were blessed with two children, Jared Steven in 1986, and Jamie Lynn in 1989. Steve's children were the love of his life, besides his wife, and his Savior, Jesus Christ.
Steve served in many ministries over 30 years: Calvary Baptist Church, youth intern, 1981-82; Village Baptist Church, Son City Youth Ministry, 1984-87; Milwaukie First Baptist Church, youth pastor, 1987-89; South Tacoma Baptist Church, youth pastor, 1989-97; Camp Tadmor, director, 1997-2001; Calvary Baptist Church, The Dalles, assistant pastor, 2001-02, and senior pastor, 2002-11, until his death.
Steve was able to be a part of many mission trips to many countries: Mexico (three times), the Philippines, Israel and the Holy Lands, and the Ukraine.
Steve's hobbies included anything recreational; but he particularly loved snow skiing, cycling, football, baseball, football reffing, golf, tennis and "working out" at the gym. Steve hated mechanics, mowing lawns, yard work, putting on snow chains, peas, broccoli, asparagus and most anything green!
Steve is survived by his wife, Marilyn; his son and daughter-in-law, Jared and Kristi; his daughter, Jamie Lynn; mother, Betty (Anable) Michael and her husband, Mike; brother and sister-in-law, Darrel and Robin; sister and brother-in-law, Debbie Fought and Grant; nieces Sheena, Carissa, Kacey and Audrey Byrd, and nephews Jake and Austin.
He was preceded in death by his father, Ronald Eugene Anable, and by his maternal and paternal grandparents.
Remembrances may be made to Western Conservative Baptist Seminary, "Steve Anable Memorial Fund," Samaritan's Purse, Celilo Cancer Center, Heart of Hospice or Calvary Baptist Church.
Friends are invited to a time of viewing and fellowship on Friday, Sept. 30, from 2-7 p.m., and to his memorial service on Saturday, Oct. 1, at 2 p.m. both at Calvary Baptist Church, 3350 Columbia View Drive, The Dalles.
Arrangements are under the direction of Anderson's Tribute Center (Funerals, Receptions, Cremations), 1401 Belmont Ave., Hood River, OR 97031; 541-386-1000. Please visit www.andersonstributecenter.com to leave a note of condolence for family or to read Steve's entire life story.