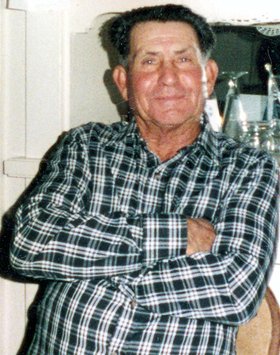 Fidel Ybarra Lopez
April 24, 1928 - April 18, 2011
Fidel Ybarra Lopez, 83, former resident of Hood River, Ore., passed away April 18, 2011, in Hanford, Calif. Fidel was born April 24, 1928, in Najar, Jalisco, Mexico, to Jose Trinidad Ibarra and Isabel Lopez.
In 1944, Fidel traveled from his hometown, arriving on the U.S. Mexican border of California. He worked as a "bracero" in the fields of Southern California. He met and married Connie Valdivia in 1950 in Azusa, Calif. They lived and raised their five children in Northern California until their move to Hood River, Ore., in 1968.
Fidel loved the outdoors and was an avid gardener. He loved to have Connie prepare meals with fresh vegetables from his garden, and he prepared his special salsas with the fresh vegetables. Fidel was a fantastic cook and on lots of holiday occasions prepared dishes that have become family traditions.
Fidel enjoyed spending time with friends and family. He was proud of his children and loved his grandchildren and great-grandchildren.
Fidel worked for Wells & Sons Orchards for more than 30 years as a foreman until his retirement. He loved taking road trips; he and Connie traveled extensively. Some of this most meaningful and fun memories are of their trips to Mexico and Washington to visit family.
He was a member of St. Mary's Catholic Church in Hood River. Father Ron Maag celebrated a Mass for Fidel on Sunday, April 24. Fidel was also a member of Knights of Columbus.
Fidel is preceded in death by his daughter Eleanor, his beloved wife, Connie, and his brother Jose Lopez.
He is survived by his children, Doris Galvez, Ceci Velasquez, Daniel Ybarra and Ralph Ybarra; his sisters, Eva Covarrubias, Maria Trinidad Courtier and Angela Maldonado; 12 grandchildren, 18 great-grandchildren and two great-great-grandchildren.
A Celebration of Life was held in Fidel's honor July 30 at Mt. Hood Meadows. It was only four years ago that he was there surrounded by his children and extended family, celebrating Connie's life.
Dad is in our hearts and is greatly missed; he will always be honored with our family traditions and celebrations.