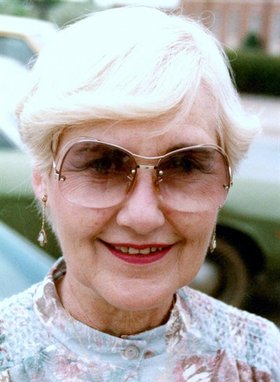 Arbutus "Jeannie" W. North
July 26, 1929 - September 1, 2011
Arbutus "Jeannie" W. (Murrow) North, of Hood River, Ore., passed away Sept. 1, 2011, in Portland, Ore. She was born July 26, 1929, and was 82 years old.
Arbutus was born in Dacoma, Okla., to Lionel R. and Lilly May (Spafford) Murrow. She was raised for the most part of her childhood in or around Waynoka, Okla., where she graduated from Waynoka High School. She has lived in Alva, Okla., Amarillo, Texas, and Hood River, Ore.
Arbutus enjoyed horses, singing and playing piano, painting, and traveling.
She was a member of Odell Methodist Church in Hood River, a volunteer for the Meals on Wheels program and visited the local nursing home to do the ladies' hair each Monday.
Arbutus is survived by her two children, Deanna Abston, of Enid, Okla., and Lanny Spencer, of Oklahoma City, Okla.; three sisters, Daisy McGolden, of Waynoka, Okla., Georgie Rose McCray, of Midland, Texas, and Mary Belle McCullar, of Weatherford, Texas; one brother, Sanford Murrow, and his wife, Janice, of Amarillo, Texas; one grandson, Max Lee Rose, and his wife, Angela, and two children, Dalton and Aubry; several nieces, nephews and cousins.
She was preceded in death by her husband, George W. North; one sister, Violet Morse, of Dacoma, Okla., and one brother, Wayne Murrow, of Alva, Okla.
Arbutus met Donald Moore in Hood River, Ore. and they have been together for the past 20 years.
Services are planned for 2 p.m. Friday, Sept. 16, at the Church of God, 2308 Maple St., Waynoka, Okla. Keepsake memorial programs are available for Oregon friends and can be picked up at Anderson's Tribute Center (Funerals. Receptions. Cremations), 1401 Belmont Ave., Hood River, OR 97031. Please visit www.andersonstributecenter.com to leave a note of condolence for family.
EULOGY
This eulogy is a brief outline of the life and adventures of Arbutus Wanona "Jeannie" North through the eyes of brother Sanford Murrow, daughter Deanna Abston and son Lanny Spencer.
Arbutus was born on July 26, 1929, to Lionel R. and Lilly May (Spafford) Murrow. She began her life in the house that Grandpa Spafford had built.
From there she moved with her family around to several different farms where Papa raised and harvested wheat. During this time she crossed paths with Sanford Massengal, who was an out-of-work, homeless music instructor. The people in several smaller communities hired him to teach music and gospel songs at different churches. He did all this for the price of room and board.
Anyway, he was impressed with the singing abilities with a young Arbutus and sister Marybelle. He wanted to take them on tour with him, but Mama and Papa decided the girls should stay at home with the family. When Mr. Massengale left the area, Arbutus, in her early teens took over as music leader in church.
Arbutus attended West Liberty School during her elementary years and went on to attend and graduate from Waynoka High School. During her high school years she met and married Dean Spencer in 1946. Together they had a daughter, Deanna Kay, and a son, Lanny Dean Spencer.
In 1959 Arbutus moved to Alva, Okla. Here she started her career in the radio business, at KALV radio station where she acquired the stage name Jeannie. She went on to continue her radio career in Amarillo, Texas, at KIX radio station, then eventually went on the road selling television spots.
Later on she move to Hood River, Ore.; here she met and married George W. North in 1971. Together they ran a successful hotel and restaurant business on the Columbia River. They also raised and showed Hackney ponies and a champion Appaloosa. They had 28 brood mares, of which most of the colts were donated to 4-H children.
They showed their ponies in several different venues, including the Cow Palace in San Francisco. They were recipients of hundreds of ribbons and trophies. Sadly, in 1987 she lost her husband of 16 years.
After the death of his wife, Don Moore, mutual friends with Arbutus and George, became Arbutus' life partner. They enjoyed traveling in their earliest relationship. They had a winter home in Casa Grande, Ariz., to avoid the damp, cold winters of Hood River. I remember her talking to Lanny in the middle of winter, saying they had been swimming. Later in life it became too hard for them to travel; closing up one home and opening another.
Arbutus spent the remainder of her 82 years in Hood River making occasional trips back to her beloved Oklahoma to spend time with her family and friends. She was a member of the Odell Methodist Church, a volunteer for the Meals on Wheels program, and on Mondays would go to the local nursing home to do the ladies' hair.
It was on Sept. 1, 2011, when Arbutus traveled to her final home, where she is resting eternally.