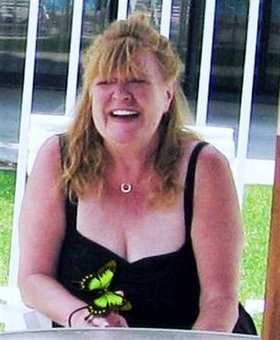 Leilani Ramona Naranjo
July 28, 1947 - August 31, 2011
Leilani Ramona Naranjo, 64, of Hood River, Ore., passed away on Aug. 31, 2011, after an extended illness. Leilani was born in Neulussheim, Germany, on July 28, 1947, to Anna Marie Kauppiner and Gustave Johnson and was their only child; she graduated from W.B. Laughbon High School, in DuPont Wash., where she was awarded the Best Actress Award from the National Thespian Society.
Leilani married David Naranjo in 1966 and they had a son, Mark David Naranjo, in May of 1967 and a daughter, Michelle Ann Naranjo, in February of1970.
Leilani enjoyed studying the Bible and had created many writings related to her studies of this and other books she read over most of her adult life. She always had a positive outlook on life. She positively impacted many children and young adults, over the years, with her friendly care and assistance as mother figure during their times of need, and maintained communication with most of them until she passed away.
She loved to cook, and could be found many times reading cookbooks, and thinking how she could improve on what she would see. She always made sure her family, friends, relatives and guests were well-fed. She also would make sure the wild birds, pet dogs and cats, and other little creatures were fed as well.
She has passed on to be with her son, Mark, and grandson Matthew Mark Naranjo, who we know have been waiting for her.
Survivors include her daughter, Michelle Ann Hulbert; Michelle's husband, Marshall; granddaughter Ashley Ann Naranjo; and grandson Michael Matthew Hulbert; all of whom Leilani lived with the last eight years. She is also survived by granddaughter Antionette Leilani Naranjo, of El Cajon, Calif., and who lived with the Hulberts and Leilani for seven years; father, Gustave Johnson, of St. Peters, Mo.; mother, Anna Marie Curette, of Lakewood, Wash.; sisters Dolores Dearing, of Lakewood, Wash., Denise Curette, of Lakewood, Wash., and Diana Curette, of Puyallup, Wash.; brothers Jimmy Curette, of Lakewood, Wash., John Johnson, of St. Louis, Mo., and Greg Johnson, of Elsberry, Mo.
Arrangements are under the direction of Anderson's Tribute Center (Funerals, Receptions, Cremations), 1401 Belmont Ave., Hood River, OR 97031; 541-386-1000. Please visit www.andersonstributecenter.com to leave a note of condolence for family.