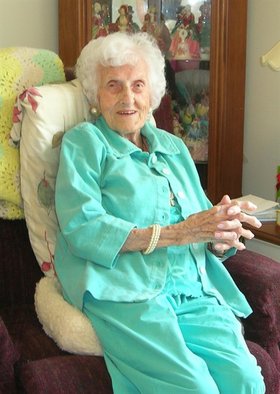 Kathleen "Kay" Cail Dahlquist
May 23, 1914 - April 1, 2012
Kathleen "Kay" Cail Dahlquist, 97, died of natural causes April 1, 2012, in Hood River, Ore.
Kay was born May 23, 1914, in Boston, Mass., to Dr. Thomas Cail and Edna (Doherty) Cail. She is survived by four of her children: George W. Dahlquist Jr. and his wife, Susan, of Billerica, Mass., Diane Cram and her husband, Curt, of Tehachapi, Calif., Sharon Guidera and her husband, Rob, of Hood River, Ore., and Dr. Philip B. Dahlquist of Lake Hopatcong, N.J.
She is preceded in death by her beloved children Richard C. Dahlquist, of Marshfield, Mass., and Edna M. Dahlquist, of Willingboro, N.J.; and granddaughter Aliree Coleman. She is also preceded in death by her brother Dr. Harold Cail, of Sudbury, Mass., his son John and wife Marion.
She is survived by 11 beloved grandchildren and 20 great-grandchildren.
Kay was raised in Cambridge, Mass., where she graduated high school then attended Lesley University, graduating with a certificate in early childhood education. Her fondest memories were of the time spent with her dad visiting his relatives on their large dairy farm and other enterprises in Cail's Mills, New Brunswick, Canada.
Summers with her own family were spent between the farm, beach house in Marshfield, Mass., and Lake Sebago, Maine. Horses, dogs, dancing, writing, travel, her faith and children were all passions.
Kathleen Cail met George Dahlquist of Quincy, Mass., and they married in 1936. They raised their family in Newton Highlands and Belmont, Mass. When the youngest child, Philip, began school Kay started to work as a preschool teacher and continued her education.
In 1964 they moved to Ramsey, N.J., with the two youngest where Kay attended William Paterson College and received a master's degree in Early Childhood Education while teaching kindergarten in the public school system.
Education was a big part of her life and all but one of her six children obtained college and three advanced degrees.
Upon retirement in 1979 Kay moved to Venice, Fla. There she had an active life busy with volunteering in the local hospital, reading to children and assisting elderly residents with transportation and other needs. Kay enjoyed ballroom dancing into her mid-90s and traveled around the world well into her late 80s.
At the age of 82 Kathleen wrote and published the first of six children's books as well as writing numerous articles for the local newspaper and Aston Garden's Newsletter.
She lived independently until 95 and attributed her astonishing good health to keeping active, exercising and eating simple foods. Her favorite foods were ice cream, sugar and butter! After a fall in 2010 she relocated to Hood River, Ore., with her cat "Socks" to be close to Sharon and Rob Guidera.
Kay was an inspiration to all who met her and was featured in three different news articles since her arrival in Hood River. She had a sense of humor and wit until near the end.
Services will take place at a later date at Forest Hill Cemetery, Boston, Mass., in a family plot owned for over a hundred years. The family would like to thank Heart of Hospice, Hearts of Gold and Anderson's Tribute Center for their compassionate assistance at the end.