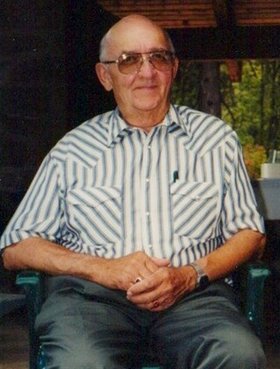 Donald "Don" Francis Packer
May 18, 1931 - January 28, 2012
Donald Francis Packer, 80, peacefully passed away at the home where he had lived for more than 60 years on Jan. 28, 2012, with his family at his side. Don was born May 18, 1931, in his grandparents' home on 12th Street in Hood River, Ore., to Clarence and Bessie (Stevens) Packer.
He grew up on his parents' farm on Willow Flat with brothers Leslie and Kenneth; Don was the youngest of the three sons. He worked in the family orchard and packing house until he graduated from Odell High School (now Mid Valley Elementary School) in June of 1949.
Don married his high school sweetheart, Betty Farris, from "rival" school Hood River High School (now Hood River Middle School), on Aug. 19, 1951, in Stevenson, Wash. They moved into the house where they were to live together for the next 60-plus years.
They purchased this house and orchard from his parents a year later and started their own family. Over the next 12 years Peggy, Margie and Sally were born. Don served on the board of Central Vale school (he had attended grades 1-8 there) until it closed. He also served eight years on the Crystal Springs Water District board.
In addition to operating his orchard, Don worked for the county for several years driving truck and operating heavy equipment. He owned and operated his own construction company for the next 25 years. Following that he owned and operated a trucking business hauling fruit and agriculture products up and down the West Coast with Betty "ridin' shotgun."
Don had many hobbies and interests, most centering on working with his hands. Ironically, he had suffered from polio at the age of 7 and learned to be right-handed, as he had been a "lefty" until the polio paralyzed his left side. He overcame the odds, regaining the strength and coordination to use his left hand and arm again.
He worked with wood, making everything from barns for his daughters' horses to Barbie doll wardrobes. He and Betty spent many hours rock hounding all over the Northwest and Arizona. He cut, polished and set semi-precious stones making beautiful belt buckles, rings, necklaces and earrings that often ended up going home with a daughter.
Don was an avid outdoorsman. He hunted deer and elk, often accompanied by Betty and the girls. Camping was a favorite family pastime, whether it was to the beach for a good clam tide or a lake for fishing. After his daughters went out on their own, he and Betty started traveling more in their motor home.
He became quite the photographer and many Sundays were spent "going for a ride" to eastern or central Oregon or Washington taking pictures of old homesteads, wildlife or beautiful scenery. He had a knack for spotting wildlife that most people would overlook; this was something he passed on to all three of his daughters.
In 1998 Don and Betty purchased their winter home in Salome, Ariz. They spent many hours driving through the Arizona mountains, rock hounding and photographing the desert with their red border collie, Cindi, riding along.
The first week or two of December would find them headed back to Oregon as he "had spent every Christmas of his life at home and always would" - and he did for 80 years!
Don is survived by his wife of more than 60 years, Betty (Farris) Packer; daughters Peggy L. Packer, Margie Loomis (Bill Broderick) and Sally Packer-Akin (Richard); grandchildren Tenille Hilton (Todd), Jamie Loomis (Karen), Amy Marquez (Adolfo), Brandon Loomis, Chrystal Akin-Bruce (Bryan) and Eric Akin; great-grandchildren Toby Hilton, Jocelyn Marquez, Dillon Loomis, Karyna Marquez and Rylee Akin; and many nieces and nephews.
He was preceded in death by his parents and brothers.
Donations are encouraged to the Odell Fire Department or the charity of your choice in Don's name.
Arrangements are under the direction of Anderson's Tribute Center (Funerals, Receptions, Cremations), 1401 Belmont Ave., Hood River, OR 97031; 541-386-1000. Please visit www.andersonstributecenter.com to leave a note of condolence for family.