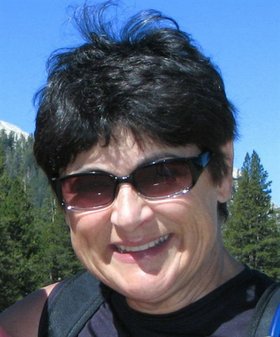 Mollie Rachel Lee
August 8, 1947 - February 4, 2012
A bright shining light, Mollie Rachel Lee, passed from this earth on Feb. 4, 2012, in Portland, Ore. Mollie was a beautiful, joyful woman with twinkling eyes, dark curly hair and smiling, rosy-red lips. She had boundless energy and enthusiasm, and a love of life.
Many friends, far and wide, were attracted to her good wit, graciousness, and authenticity. Mollie was an extraordinarily warm, generous and loving friend.
Mollie was born Aug. 8, 1947, in Berkeley, Calif., to Thomas and Henrietta Ferry. She lived in Palo Alto, attending school in grades two through 12. Mollie's mother reports that from the time Mollie was a child, you couldn't help but love her, even if she was naughty.
Mollie graduated from Santa Clara University in 1969 and began her teaching career in California. She married and moved to Oregon. Four years later she earned her master's degree from the University of Oregon. A number of years later, she and her first spouse parted ways.
Mollie was a beloved, highly respected master educator. She created an inviting and engaging learning environment in her many roles in education.
Mollie taught and soon became a librarian at Englewood Elementary School. She was chosen as the Salem-Keizer library media specialist and then principal of Rosedale Elementary School in Salem. She then brought her outstanding educational leadership to Lake Oswego, where she was principal of Forest Hills Elementary School, 1989-1996, and Lake Grove Elementary School, 1996-2003.
Mollie endeared children, staff and parents alike with her big hugs, easy laugh, sparkly spirit and ability to bring people together.
As Mollie was wrapping up her 30-year career in education, she fell in love with a great guy with similar values - a sense of family, fun, adventure and commitment. Mollie and Mac Lee married in December of 2005, and Mollie was thrilled to build a family with Mac and her charming stepsons, Sam and Jesse.
Mollie and Mac bought a Sprinter van and enjoyed "camping" in beautiful spots throughout the Northwest and California. On a Friday afternoon, one could find her riding in Mac's motorcycle sidecar off to a scenic winery. Mollie was always game for good fun, whether hiking in Yosemite, soaking up sunshine in Carmel, tending her gardens, shopping in Saks or Goodwill, or enjoying dinner with loved ones.
Mollie leaves behind half-knit sweaters, canvases and paints waiting for her special touch, boxes of photographs documenting fun and frolic, her lovable goldendoodle, Baxter, and a wide range of adoring friends and family members who will miss her bright light.
Mollie was preceded in death by her dad, Thomas Ferry.
In addition to her husband, Mac Lee, and stepsons Sam and Jesse Lee, Mollie is survived by her dear mother, Henrietta (Hank) Ferry, brother Robbie and his sons, Nick and Skyler, devoted mother-in-law and father-in-law, Pat and Dixon Lee, and so many great friends.
What would Mollie like you to do in honor of her? Love those around you, laugh much and cherish life. You can also donate to her favorite charity, Mercy Corps, at www.mercycorps.org/donate, Providence Hospice services that cared for her at http://oregon.providence.org/patients/programs/providence-portland-medical-foundation/Pages/donationoptions.aspx, and to the Pancreatic Cancer Action Network, pancan.org/section_donate/donate_now.php, which is dedicated to fighting the wretched disease that blew out Mollie's shining light.
A celebration of Mollie's life will be held Saturday, Feb. 25, at the World Forestry Center in Portland from 3-6 p.m. All of Mollie's loved ones and friends are invited to toast her lovely life.