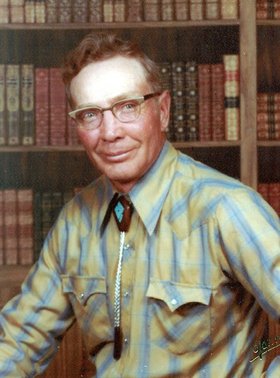 Gerald Franklin Baker
October 11, 1921 - December 9, 2011
Gerald Franklin Baker, a resident of Cottonwood, Ariz., since the spring of 1978, passed away at Carefree Assisted Living Center on Dec. 9, 2011. He was born on Oct. 11, 1921, on a homestead in Russell, Iowa, the second of five children to Franklin and Isis (Buoy) Baker.
He married Elva Coffey on June 22, 1942, and farmed until enlisting in the U.S. Marine Corps on Jan. 4, 1943. He served in the Pacific Campaign until 1945, when he was stationed on Okinawa waiting to go on to Tokyo. He always said that Harry saved his life by dropping the "bomb." That made Gerald a life-long Democrat. An interesting point is that Gerald was one of four who survived the war out of his platoon of 61 Marines.
He and Elva sold the farm in 1962 and moved to Page, Ariz., working on the Glen Canyon Dam. He then sold and moved 110 houses used to house people who made the movie "The Greatest Story Ever Told." They moved to Flagstaff, where they spent the next 17 years.
Gerald had a Behlen Building Franchise and built a store and a gas station on Lake Powell. He worked in heavy construction all over the U.S. until moving to Cottonwood in 1980. When he retired he made fine hardwood furniture for family members and others.
He is survived by daughter Patricia Petty of Cottonwood, Ariz., Shirley Nesbitt, of Hood River, Ore., four grandchildren, six great-grandchildren and two great-great-grandchildren.
Gerald was preceded in death by his parents, Frank and Isis Baker, his wife, Elva, sisters Mina, Nell and Dorothy, and brother Don.
A visitation was held Dec. 15, 2011, at Westcott Funeral Home. A funeral service followed with burial at Valley View Cemetery.
Memorials may be given to The Hospice Compassus, 70 Bell Rock Plaza, Sedona, AZ 86351.