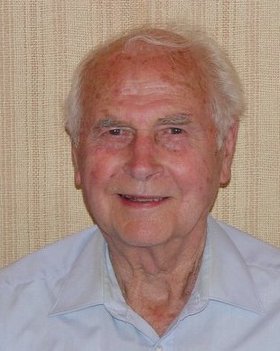 Delphia "Del" Isaac Goss
July 11, 1923 - June 5, 2012
Delphia (Del) Isaac Goss, 88, passed from this life June 5, 2012, at his home, Adult Comfort Care, in Vancouver, Wash. He was born July 11, 1923, in Mt. Hood, Ore. to B.E. and "Donia" Goss, the seventh of nine children. He was raised and educated in the Mt. Hood area.
On July 17, 1941, he married the love of his life, Arlene Joyce Noble Goss, in Stevenson, Wash.
Del served in the U.S. Marine Corps during World War II. He began as an airplane mechanic, then was trained to fly the Douglas SBD Dauntless dive bomber, a rugged and dependable aircraft.
After the war, he completed police academy training and began police work for The Dalles City Police. Five years later, he was hired as the chief deputy in the Wasco County Sheriff's Office, where he served the public for many years. He continued in law enforcement, serving as chief of police in Dayton, Ore., in the mid-1970s.
In 1952, the Gosses bought 80 acres, mainly a cherry farm, 5 miles outside of The Dalles, where Three Mile Road and Dry Hollow converge. There they raised their four children, enjoyed a garden and various farm animals. After the children left home, they sold the farm and relocated to Dayton, Ore.
In 2005, they moved to Vancouver, Wash., near their daughter Daphne and son-in-law Bill. On Sept. 5, 2007, Adult Comfort Care became their home, where they were provided with loving care.
Del loved his family, was delighted with children around, enjoyed grafting trees, growing plants and flowers, creating concoctions in the kitchen, teasing, hunting, collecting bells and memorabilia for his personal museum, and being involved with church activities. He was baptized in the Church of Christ at an early age, and remained a faithful Christian servant all his life.
Del is survived by his wife of 70 years, Arlene, of Vancouver; children Noble Thomas Goss (Teresita), of Searcy, Ark., Daphne Jeanne Goss Bynum (Bill), of Vancouver, Wash., and Ardel Marie Lewis (Larry), of Salem, Ore.; daughter-in-law Edna Goss, of The Dalles; 10 grandchildren and 13 great-grandchildren; sister, Almeda Goss Ogden, of La Palma, Calif.; and brother, Truman E. Goss, of Hood River. His son John Paul Goss died on June 16, 2012.
He was preceded in death by his parents and six older siblings: Odie, Doyle, Ruby, Mardy, Roy and Noble. The brothers have passed away in birth order.
Graveside services were conducted on June 9 by his nephew, Rudell Wray, officiate, and Attrell's Funeral Chapel, Newberg, Ore., with a military tribute given by the U.S. Marine Corps. He is buried at Noble Pioneer Cemetery, Newberg, Ore., close to his in-laws, Cliff and Tressa Noble.
A memorial service is planned for Aug. 10 at 2 p.m. at Attrell's Funeral Chapel, in Newberg. Contributions in his memory may be made to World English Institute, 1525 N.W. Division, Gresham, OR 97030, or Christian Home and Bible School, 301 W. 13th Ave., Mount Dora, FL 32757.