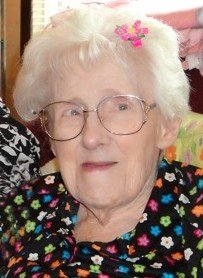 Dorothy May Hunt
March 18, 1923 - May 3, 2012
Dorothy May Hunt, formerly of Hood River/Odell, Ore., and lately of Anchorage, Alaska, died very peacefully May 3, 2012, of natural causes. She was born March 18, 1923, in Denver, Colo., to William and Violet Mulligan.
Dorothy graduated from high school and went on to graduate from Denver Women's College in Denver, Colo. She married in 1946 and had three beautiful children. She later worked for a dentist in Colorado for many years.
After moving to Odell, Ore., Dorothy became a busy little Avon Lady. She enjoyed and loved all her beloved clients and friends.
Her loves were square dancing with the Wy'east Whirlers and the Hazel Rebekah Lodge in Odell, where she served in many posts and as president. Dorothy was so excited when her lodge was able to give a $500 scholarship to her granddaughter Julia, who has a master's degree in organic chemistry.
Dorothy's hobbies were crossword puzzles and watching old movies, which she did up until the last year of her life.
Survivors include daughter Christine Walls along with one grandson, two granddaughters and five great-grandchildren. They are Zachary Preston with Isaac and Gabriel; Jennifer Thomas with Emily, and Julia Walls with Loxton. Also, her oldest daughter, Charlee Gilbert, in Anchorage, Alaska, and her husband, Loren, along with three grandsons, one granddaughter, and seven great-grandchildren. They are Jeff Gilbert; Dave and Nathalee Brown with Tyler and Kianna; Kip Gilbert with Michael, and with Rebecca Chapman - Amber, Kiley, Kayla and Karina; and granddaughter Michelle Hunt. William Hunt, son of Dorothy, preceded her in death in 2003.
Remembrances may be made to the Hazel Rebekah Lodge scholarship fund in care of Chris Walls, P.O. Box 373, Hood River, OR 97031.