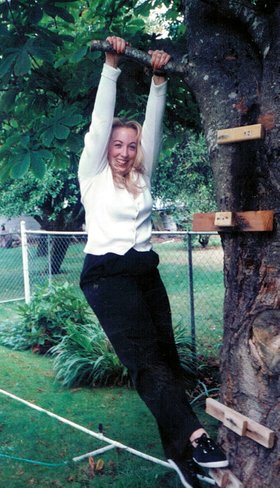 Carrie Ann Hill
January 1, 1976 - June 22, 2012
Carrie Hill, 36, of Vancouver, Wash., born Jan. 1, 1976, in Springfield, Ore., met untimely death in a vehicular incident on June 22, 2012.
Carrie was a longtime resident of Hood River, Ore., where she graduated high school in 1994. She attended Clark Community College where she studied psychology.
Carrie is survived by parents Pamela Tomson, of Eugene, Ore., father Ray Hill of Eugene, Ore., and Harold and Debra Buck, of Hillsboro, Ore.; sister Danielle and Cory Barth, of Hillsboro, Ore.; brother Trevor and Melynda Buck, of Hillsboro, Ore.; and grandmother Louise Hill, of Springfield, Ore. Other family members include Frank and Patti Harvey, of Klamath Falls, Ore., Steve and Melonie Harvey, of Springfield, Ore., Gloria King, of Prineville, Ore.; and numerous family members all near and dear to her heart.
Carrie will be especially missed by her beloved surviving family members Travis Buck, Marco Deleon and Trevin Butler, and her pets, Jihngo, Snookie and Phenros.
Carrie is preceded in death by her beloved grandparents Allan and Audree Harvey and Therman Hill.
Carrie left this world more beautiful and more comfortable than she found it. She was a passionate lover of animals and friendships. How she died does not matter, really. What matters is how she lived. Life for Carrie was a work of art in progress. Carrie wanted to change the world and provide for as many as she could.
In a world gone nuts with runaway over-pollution, political corruption, greed and stupidity, she gritted her teeth, stood firm and continued on with her head high. She was a practical problem solver. Carrie succeeded beyond her goal of being a health coach. She coached many through stress, weight, anxiety and fear.
Carrie will be deeply missed as every place she visited she left a beautiful memorable trace of herself; and in the residual good fortune of everyone who was blessed to know her.
Carrie, we love you.
Funeral services will be held at Evergreen Memorial Gardens in Vancouver, Wash., Friday, June 29, at 3 p.m. A viewing will be held at noon until the start of the service.