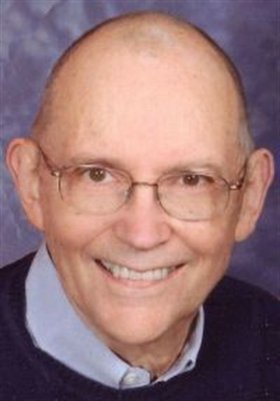 Ralph "Bill" William Boyden Jr.
May 13, 1931 - January 24, 2012
Longtime White Salmon resident Ralph William "Bill" Boyden Jr. D.D.S., 80, passed away Jan. 24, 2012, after a long battle with cancer. He was born in Chicago on May 13, 1931, and grew up in the suburb of Glen Ellyn, attending Glenbard High School.
He attended the University of Idaho on a Naval ROTC scholarship. He married his college sweetheart, Margaret White, after graduating in 1953.
During his years in the Navy he was stationed in San Diego, Calif., where his oldest daughter, Elaine, was born. After fulfilling his three-year commitment to the Navy he then entered dental school at the University of Washington in Seattle, where his son Bill was born.
In 1961 he and family moved to White Salmon, Wash., where he set up practice. In White Salmon his youngest daughter, Jennifer, was born.
Bill was very active in the community, Rotary Club, White Salmon school board, ADA and the Methodist church. Following Margaret's passing in 1999 and his subsequent retirement, he married Glenbard High classmate Aleene "Lee" Hargreaves Henninger on May 13, 2000, and relocated to Glen Ellyn.
Bill was a devoted father and grandfather; he and Aleene made frequent trips to the White Salmon area to visit his children, grandchildren and friends.
Bill leaves behind three children: Elaine (Colin), Bill (Shelley) and Jennifer; eight grandchildren: Amancay Maahs, Canela (Tom) Springer, Kyle Wood (Andrea), Angelica Boyden, Marten Boyden, Emily Boyden, ThaiAnn Carr and Lou Carr; stepchildren Carl (Dawn) Henninger, Curt Henninger, Dawn (Peter) Lantero and Jodi (Rob) Herbold; and 11 step-grandchildren.
A memorial service is planned for 1 p.m. Saturday, March 17, at the United Methodist Church in White Salmon, Wash.