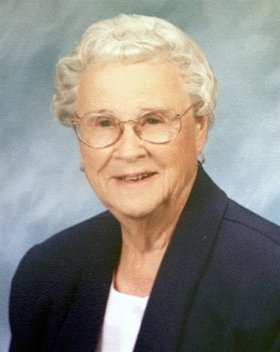 Alene Aubert
January 26, 1917 - March 21, 2012
Alene Aubert, 95, of Vancouver, Wash., died peacefully March 21, 2012, in Vancouver. She was born Jan. 26, 1917, in Dixie, Wash.
She was preceded in death by her husband, Leslie, granddaughter Terrie, 10 siblings and numerous nieces and nephews.
Alene graduated from Parkdale High school in 1936. She married Leslie in 1937, and they had a small farm in Mt. Hood and then later moved to Parkdale and began their orchard business.
Alene was an active member in the Parkdale community. She and Leslie were active in the Lions Club, Parkdale Fire house, Booster Club and Parkdale Community Church.
She packed fruit in the fall and for a few years worked at the McIsaac's grocery store.
Survivors include her daughter and son-in-law, Marcia and Mike, and her son and daughter-in-law, Gordon and Deanna, both of Woodland, Wash.; her grandchildren Teresa, Kelly, Lisa, Debbie and Chris; and 11 great-grandchildren.
Private interment will be held at Lincoln Memorial Park. A celebration of life will be held at a later date. Memorial contributions may be made to the Lions Club, Ray Hickie Hospice House or a charity of your choice.