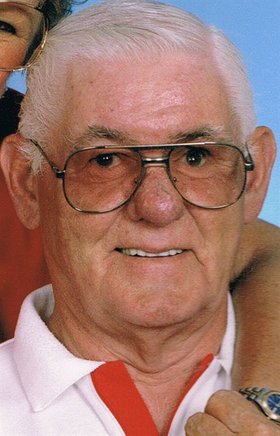 Donald "Don" M. Holman
November 6, 1935 - March 25, 2012
Donald M. Holman, 76, a resident of Mission/Pendleton, Ore., died Sunday, March 25, 2012, at his home. Don was born Nov. 6, 1935, in Seattle, Wash., to Tuffy and Fern Holman. He was raised in the Hood River area and graduated from Hood River High School.
After high school he married Barbara (Jones) Barclay. They later divorced. He owned the Hood River Sanitation Company, Don's "Duck In" in The Dalles, and Burger Island in Pendleton. He later worked in the construction and property management fields.
He enjoyed spending time with his large family, as well as playing cards, visiting casinos, watching NASCAR on television and spending time puttering around in his shop.
Survivors include his children: Randy (Shari) Holman, of Pendleton; Susie (Bob) Calhoun, of Mission; Lisa (Randy) Andrews, of Pendleton; and Thad (Tracy) Holman, of Lincoln University, Pa.; nine stepchildren, including Dani Gellatly, Mike Stevenson, Ginger Denham, Tom Stevenson, Jason Jefferies and Cheryl, Bobby, Donna, and Sharon Carneige; six grandchildren; four great-grandchildren; numerous step-grandchildren and -great-grandchildren; and three nieces.
He was preceded in death by his parents; his wife Betty Holman, in 2006; and his wife Elsie Holman, in 1983.
At his request, there will be no formal funeral service. His family will gather at a later date on the Deschutes River to remember him and his beloved wife Betty.
Spencer, Libby & Powell Funeral Home, 1100 Kelly Ave., The Dalles; 541-296-3234, is in charge of arrangements.