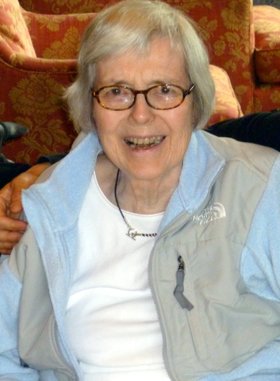 Janet VanAntwerpen Schmidt
March 25, 1934 - November 21, 2012
Janet VanAntwerpen Schmidt, 78, of Hayward, Wis., passed away after losing a fight to pneumonia on Nov. 21, 2012, in Hood River, Ore. Her two sons were there by her side.
Jan was born on March 25, 1934, and grew up in Milwaukee, Wis. She attended Downer High School for Girls, where she was very active on the field hockey team, followed by the University of Wisconsin, Milwaukee.
She then met Harold William Schmidt, married, and raised their three children: Stephen, Peter, and Karen. She was a devoted mother committed to her family who also had interests that were unique to her.
She was an avid volunteer, including with the Audubon Society and The Junior League of Milwaukee. Jan loved playing and following the sport of tennis. She also spent time creating sets and costumes for a small theater company.
Her life dramatically changed when her beloved husband passed away in March 1979. Following her loss, she created a new life by moving to northern Wisconsin, a place that held many happy family memories.
She settled in Spider Lake and became a very active volunteer in Hayward, including with the Spider Lake Association, the Northwest Humane Society and the Thrift Store. Jan quickly developed a comprehensive understanding of northern Wisconsin's ecosystems, knowledge that she loved to share with friends and family.
Her passion for and love of children also led her to participate in reading programs at local public schools and to become a substitute and assistant teacher.
When she wasn't busy with her volunteer work, Jan devoted her attention to running the Bayfield Deli in Bayfield, Wis. She and her business partner successfully managed the business for many years.
Jan loved to travel, especially to visit her grandchildren who live in Connecticut, Oregon and Montana. She was called Grammy by her seven grandchildren and known for her delicious cooking and incredible pies and cookies, especially at the holidays.
Janet was preceded in death by her parents, Alvin and Elsie VanAntwerpen, her brother, Thomas VanAntwerpen, and her husband, Harold William Schmidt.
Janet will always be remembered and loved by her three children and seven grandchildren: Stephen Schmidt, of Greenwich, Conn., his ex-wife, Stephanie Shumway Schmidt, and their three girls, Catherine, Margaret, and Elizabeth; Peter Schmidt, of Hood River, Ore., his wife, Alexandra Sosnkowski, and their two children, Bergen and Lowell; and Karen Schmidt Steele, of Bozeman, Mont., her husband, Curtis, and their two boys, Samuel and Charles.
A memorial service is planned for June 2013 on Spider Lake in Hayward, Wis. In lieu of flowers, the family is asking for any donations to be sent to the Northwest Humane Society of Hayward, P.O. Box 82, Hayward, WI 54843; 715-634-5394. For any additional information, contact Steve at sts104480@gmail.com; Pete at alexandpete@gorge.net; and Karen at karensteele@montana.edu.
Please join us for a local remembrance reception Sunday, Dec. 2, at 3 p.m. at the Parkhurst House, located at 2450 May St. in Hood River.