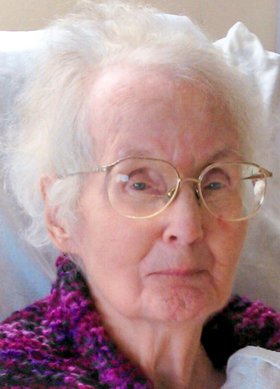 Fannie Leona Milligan
May 31, 1921 - October 23, 2012
Fannie Leona Milligan of Hood River, Ore., went home to be with her Lord on Oct. 23, 2012, at the age of 91. Fannie was born in Jackson County, N.C., on May 31, 1921, to John and Belva Chasteen.
When Fannie was 7 years old she moved with her family to Fremont County, Idaho, after the death of her father. As a young adult, Fannie worked in potatoes, grain fields and eventually in a dry cleaning business in Ashton.
On March 31, 1957, Fannie married Roy Milligan. White Salmon, Wash., became their new home town in 1963.
When Fannie's youngest daughter started school, she went to work for Diamond Fruit Growers in Hood River. When she retired from the cannery, Fannie enjoyed spending time with her grandchildren.
In 1987 Fannie became a member of the White Salmon Christian Assembly Church. One of her favorite scriptures was Psalms 100. In April 2002 Fannie moved to Hood River to be closer to her daughter. With her declining health in the last few years she was no longer able to attend church.
Fannie was preceded in death by her husband, parents and brothers, Hymon Chasteen and Thad Chasteen, and sisters, Amer Shults, Mary Rankin and Velma Brooks.
Fannie is survived by her daughters, Brenda (Ron) Gilderhus, of Washougal, Wash., and Janice (Cary) Meeks, of Hood River; grandchildren Ronnie (Marianne) Gilderhus, of Washougal, and Amber (Steve) Hoard, of Vancouver; great-grandchildren Ronnie and Libby Gilderhus, of Washougal, and Logan, Anthony, Kaden and Mya Hoard, of Vancouver; as well as many nieces and nephews.
Fannie had many wonderful friends at Dethman Manor where she resided. Her greatest joy in life was her family. She was a warm, loving and compassionate person, always thinking of others. She will be greatly missed.
At the request of the family there was no service. Burial was at White Salmon Cemetery under the direction of Gardner Funeral Home, 1270 N. Main, White Salmon, Wash.; 509-493-1323.