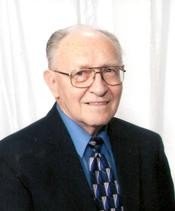 James Marcel Ison
October 20, 1922 - October 9, 2012
James Marcel Ison, 89, of Pittsburg, Kansas, passed away Tuesday, Oct. 9, 2012, at Via Christi Village in Pittsburg. He was born Oct. 20, 1922, at Hood River, Ore., to Thomas and Eva (Faubion) Ison. He graduated from Hood River High School in 1941.
James was offered a full-ride baseball and basketball scholarship to Oregon State and the University of Oregon. He decided to go the Roger Hornsby Baseball School in 1942 instead. He signed with the Brooklyn Dodgers, where he played for the Lamesa Dodgers farm team, and later played for the Boise Pilots in the Pioneer League.
James was a veteran of World War II, serving in the U.S. Army from 1943 to 1946. He was assigned to the 757 Military Police in St. Louis at Jefferson Barracks.
On Nov. 23, 1946, he was united in marriage to Rosalie L. Noor in Kansas City, Mo. He worked for the U.S. post office for 33 years.
Membership was held in the Our Lady of Lourdes Catholic Church in Pittsburg, serving as a Eucharistic Minister and a member of the Knights of Columbus.
Survivors include his wife, Rosalie, of Pittsburg, Kansas; a daughter, Rosemary Clinton, and her husband, Jerry, of Overland Park, Kansas; two sons, James T. Ison and his wife, Janie, of Sacramento, Calif., and John Ison and his wife, Ronda, of Pittsburg, Kansas; and nine grandchildren: Paul Clinton, Rick Clinton, Michael Clinton, Jessica Biller, Maddy Spitz, Adam Spitz, Anthony Ison, Nicholas Ison and Greta Rose Ison; and two great-grandchildren, Jack and Georgia Biller.
He was preceded in death by his parents and two brothers, Marvin and Mike Ison, and a grandson, Gabriel John Ison.
Mass of Christian burial was held Oct. 12 at Our Lady of Lourdes Catholic Church with Father Marco Deloera and Father Michael Baldwin as co-celebrants. Burial followed in the Highland Park Cemetery, where the Benjamin Fuller American Legion Post No. 64 of Pittsburg conducted a flag-folding ceremony.
The family has suggested memorials to the Our Lady of Lourdes Memorial Fund or Harry Hynes Hospice, in care of Brenner Mortuary, 114 E. Fourth St., Pittsburg, KS 66762. Friends may leave condolences online at www.brennermortuary.com.