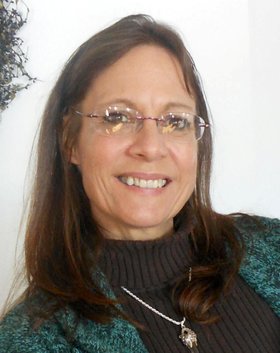 Judith "Judi" E. Kane
May 11, 1962 - April 15, 2013
Judith E. Kane (Judi), 50, died peacefully at home in Hood River, Ore., on Monday, April 15, 2013. Judi was born in Chicago, Ill., May 11, 1962, to Arnold and Julia Zweerts. She grew up in Downers Grove, Ill., and graduated in 1980 from New Glarus High School in Wisconsin.
Judi married Curtis Kane of Fennimore, Wis., in 1982. The couple, who have been married for 30 years, raised two children, Sadie Kane and Richard Kane, in Brodhead, Wis., where they resided for 25 years and refurbished a 1901 home. She was active in the United Congregational Church of Brodhead and the Girl Scouts as a co-troop leader, taking the girls on camping trips and doing crafts.
Being the daughter of two artists, who were internationally known for their talents, influenced her in many ways growing up — Judi was literally raised surrounded by art; living and breathing composition, color and craftsmanship.
Her mother, Julia, taught her how to sew and make her own clothes. During family travels to Mexico, she watched native fibers being dyed into brilliant colors, which were then carefully woven into cloth on hand looms. This influenced her to take her creative abilities to a whole new level by becoming a fiber artist.
Judi was a member of PAQA (Professional Art Quilters Alliance) and partnered in a hand-dyed fabric business based out of her basement during their time in Wisconsin.
Judi and family moved to Hood River, Ore., to help take care of her parents in 2007. She quickly became involved with the Columbia Art Gallery and was well-known and admired for her intricate fabric art. Judi believed quilting was a birthing process, a labor of love, and like death, was the ultimate work of the Artist, bringing His creation home to perfection.
She also created jewelry, choosing each color and size of bead in much the same way as she chose each fabric for her fiber art. In addition to her art, Judi worked as secretary for Pine Grove Butte Cemetery and ran it until impeded by her ill health.
Judi is survived by her husband, Curt; daughter Sadie Kane (Jeff Bailey), of Portland, Ore., and son Richard Kane. She is also survived by her brothers, Jan Zweerts (Rae Zweerts-Casey), of Portland, Ore., and Phillip Zweerts (Rachael Tadyish) of New Glarusm, Wis.; uncle Andrew Brownfoot (Margaret), of Sicily, Italy; cousin Anna Brownfoot Beeson (Tim), of Australia; niece Amber Kuebli (Dan), of Monroe, Wis.; nephews Josh Penniston (Chelsea Galloway), of Dodgeville, Wis., and Sam Zweerts, of Postville, Wis.; great-nephew Deacon and great-nieces Elise Kuebli, Adelynn Kuebli and Livi Penniston.
Judi was preceded in death by her parents, Arnold Zweerts and Julia Zweerts-Brownfoot.
A celebration of her life will be held on Saturday, May 4, at 1 p.m. at the Columbia Art Gallery. Please come and bring stories or photos you wish to share.
Arrangements are being made by Gardner Funeral Home. Donations in lieu of flowers may be made to Providence Hospice of the Gorge and are greatly appreciated. It is with their help that Judi was able to pass peacefully at home with dignity.