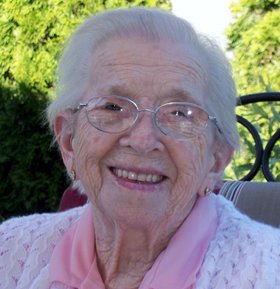 Margaret Markovich Boytz
August 3, 1919 - August 14, 2013
Margaret Markovich Boytz, known to all as Aunt Margaret, died peacefully in her sleep on Aug. 14, 2013, at Providence Brookside Manor, her home for more than 12 years.
She was born Aug. 3, 1919, the fifth child of Lena and Wasco Markovich, and was raised on the family farm at Peoh Point and the nearby family home in Roslyn, Wash. She and her siblings attended Peoh Point Grade School, walking daily from the farm on Markovich Road.
She graduated from Cle Elum High School in 1937, often walking with her sister, Lena. During the winter months their father, Wasco, would provide a ride home — on dark snowy days — in the family's horse-drawn sleigh. Her letter-perfect Palmer Penmanship handwriting stayed with her throughout her life.
In 1941 she eloped to Coeur d'Alene, Idaho, with Phillip Boytz of Roslyn, a tailor's son and a United Mine worker. They lived next door to his parents, whom they cared for, and across the street from their good friends, George and Zeffie Gasparich. Phil died in 1987.
In 1998 she followed her sister, Lena Young, to Hood River, where they lived at Providence Down Manor and then at Providence Brookside Manor, where she became the longest-term resident. Lena died in 2001.
Margaret crocheted dozens of afghans for patients at the Yasui Dialysis Center and countless infant blankets, booties and hats for newborns at Providence Hood River Memorial Hospital Family Birth Center. Her Brookside Manor apartment often sent the sweet smells and tastes of baked pies, kolatchies and breadsticks to the delight of both staff and residents.
She also created felted hats that won ribbons at the Hood River County Fair and in 2012, a Best of Show honor. Her hats have been for sale at Hood River's The Enchanted Alpaca store for several years. Her remaining felted hats are displayed, along with her picture, at the store.
Margaret was the last surviving sibling of her family and while she did not have children, everyone she met affectionately called her Aunt Margaret and benefited from her caring attitude and good humor.
An "addicted" Seattle Mariner fan, she watched almost every game, attended several games at Safeco Field and knew many of the players' batting averages. In 2004, she was one of the top three vote-getters in an online Ultimate Mariners Fan Contest. The last game she attended was on April 22, 2012, when she witnessed the 21st perfect game in 135 years of baseball history.
Aunt Margaret is survived locally by her nephew, Gary Young, his wife, Barbara, and by many other nieces and nephews, grands and great-grands and by all those who knew her and simply called her "Aunt Margaret."
Brookside staff members have been more than caregivers throughout Margaret's residency there. They became welcomed friends and extended family as well — many will tell you that although they provided care for Margaret, she in many ways also took care of them.
Her sage advice was simply, "Don't work too hard and make sure you rest."
Friends are invited to rest and celebrate Margaret's life on Thursday, Aug. 29, at Providence Brookside Manor. A 3:30 p.m. reception will be followed by a service of remembrance. Viewing times at Anderson's Tribute Center are available on its website, andersonstributecenter.com.
Margaret's body will be laid to rest at Greenwood Memorial Park, Renton, Wash., on Labor Day, Sept. 2, 11 a.m., next to her husband, Phillip, and near her sister Lena and brother Babe.
Memorial contributions in Margaret's name may be made to the Slovak Cemetery in Roslyn, Wash., United Mine Workers (UMW) or the PHRMH Foundation Assisted Living Fund.
Arrangements are under the direction of Anderson's Tribute Center (Funerals, Receptions, Cremations), 1401 Belmont Ave., Hood River, OR 97031; 541-386-1000. Please visit www.andersonstributecenter.com to leave a note of condolence for family.

Condolences are being received online.