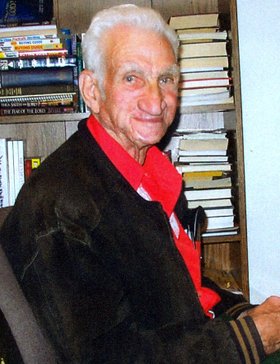 Frank S. McJunkin
November 27, 1929 - November 27, 2013
Frank S. McJunkin, 84, of Parkdale, Ore., passed away unexpectedly on Wednesday, Nov. 27, 2013, at Oregon Health and Science University in Portland, Ore.
Frank was born Nov. 27, 1929, in Albany, Ore., to William Samuel Charles McJunkin and Mary E. (Derrick) McJunkin.
After receiving his general education through the Albany School District, Frank proudly served our country in the U.S. Army. He then married Maribel E. Starr in Salem, Ore. Frank lived in both Alaska and Oregon and was employed for many years as a mechanic and welder with the Union Local 701. He really enjoyed hunting, fishing, chopping wood, and providing maintenance for his church in Parkdale.
Frank is survived by his daughter, Theresa Smith, of Mt. Airy, Md., and sons Roy S. McJunkin, of Eugene, Ore., and William C. McJunkin, of the U.S.A.; his sister, Doris Lyons, of South Carolina; and his grandson, Jerome B. McJunkin, of Portland, Ore. He is also survived by many grandchildren, great-grandchildren and great-great-grandchildren.
Frank was preceded in death by his loving wife Maribel, daughter, Mary M. McJunkin, sister, Ethel Bradburn, and brothers, Arthur McJunkin and Albert McJunkin.
Services are planned for 2:30 p.m. Sunday, Dec. 1, at the Parkdale Baptist Church, 6310 Dee Highway, Parkdale, OR 97041, with Pastor Bobby Beauchamp officiating. Private inurnment at Haysville Historical Cemetery of Salem, Ore., will take place at a later date.
The family suggests memorials be made in Frank's name to either the Parkdale Baptist Church or The Boys and Girls Club sent in care of Anderson's Tribute Center.
Arrangements are under the direction of Anderson's Tribute Center (Funerals, Receptions, Cremations), 1401 Belmont Ave., Hood River, OR 97031; 541-386-1000. Please visit andersonstributecenter.com to leave a note of condolence for family.
Condolences are being received online.