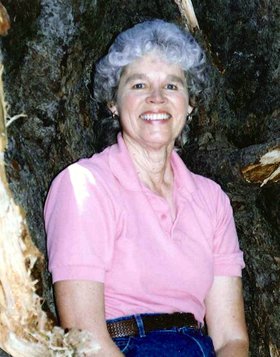 JoAnn Oakes
August 7, 1932 - January 3, 2013
Longtime Parkdale resident JoAnn Oakes passed away Thursday, Jan. 3, 2013, at Brookside Manor in Hood River, Ore. JoAnn was born Aug. 7, 1932, in Denver, Colo., to Edgar and Alva Maloy.
Her early years were spent in Denver, before the family moved to Oklahoma City, Okla., where she graduated from Putnam City High School in 1950. She then took nursing training at the Mercy Hospital School of Nursing in Oklahoma City, where she was selected "Miss Mercy."
She graduated from nursing school in 1953, and the same year married John Oakes. The couple had three children, son Blair, born in 1954, and daughters Leslie, in 1956, and Becky, in 1960. JoAnn also began her long career in health care, working at a number of health facilities in Colorado and Utah during the next few years.
In 1961, John became a teacher with the Hood River County School District, and the family settled in Parkdale. JoAnn worked at Hood River Memorial Hospital. Early in 1967, she became the Hood River County Health nurse, heading up the local health department, a position she held until the summer of 1972, when she left to prepare for a new adventure.
In September 1972, the Oakes family moved temporarily to Saipan, when John took a two-year position as marine resource coordinator for the U. S. Marianas Islands Trust Territory, and JoAnn became the U.S. Trust Territory Marianas Islands public health supervisor. Her duties included traveling to a number of different islands, and working on a wide range of public health issues.
Following their return to Hood River, JoAnn became director of nursing at Hood River Memorial Hospital, a position she held for five years, before moving into the field of industrial nursing.
She was industrial nurse at Diamond Fruit Growers Inc., from 1980-83, and was industrial health specialist at Mid-Columbia Medical Center in The Dalles from 1983 through the end of 1989. In early 1990, she started her own industrial health and safety consulting business, and worked with businesses in several industries throughout the expanded Columbia Gorge area until her retirement in 2005.
She received many awards and honors over the years for her work.
JoAnn is remembered as being positive and enthusiastic, with many diverse interests, including family, friends, dogs, her garden, travel, and the outdoors. As she described in one of her writings, "I enjoy skiing, camping, hiking, cooking, and life in general."
A tragedy led to an important personal cause. Thanksgiving evening 1984, she and daughter Becky were returning to Parkdale on Highway 35 after taking JoAnn's mother back to her assisted living home. They were hit head-on by a vehicle driven by an intoxicated driver. Becky was killed, and JoAnn was critically injured.
Following a long recovery, she spent many years working with Mothers Against Drunk Driving (MADD), speaking to participants in court-ordered diversion programs, and in other ways encouraging people not to drink and drive.
JoAnn was predeceased by her parents and her daughter Becky.
She is survived by her daughter Leslie, of Hood River, son Blair and daughter-in-law Kim, of Lynnville, Tenn.; eight granddaughters: Miriah Seckel, Kara Salazar, Morgan Barrett, Katie Davis, Caitlin Oakes, Blair Oakes, Victoria Oakes, and JoAnn Oakes; 10 great-grandchildren; three cousins; two nephews and a niece.
She is also survived by many friends, including special friends the McKeown family of Odell, the Euwer family of Parkdale, Nina Westerdahl, of Scappoose. Ore., goddaughter Lionor Najera and the Najera family, of Parkdale, and Dave and Katie Foster, also of Parkdale.
As JoAnn requested, no services are planned. Please visit www.andersonstributecenter.com to leave a note of condolence for family.
Memorials may be sent to the Alzheimer's Foundation of America, or Mothers Against Drunk Driving (MADD), in care of Anderson's Tribute Center (Funerals, Receptions, Cremations), 1401 Belmont Ave., Hood River, OR 97031; 541-386-1000.

Condolences are being received online.