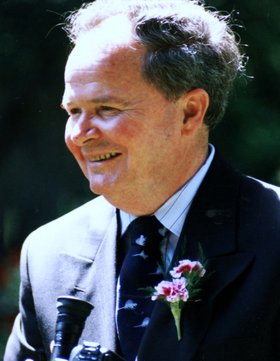 James "Jim" E. Annala
unknown - March 7, 2013
James E. "Jim" Annala, 83, a charismatic man possessing a dry humor, razor-sharp wit and unforgettable smile, passed away in his sleep on March 7, 2013. He was surrounded by loved ones and cherished caregivers at his home in Dundee, Ore. He was born in 1930 to parents Margret (Pierson) Annala and Eino Annala in Hood River, Ore.
Jim was a musically talented child who studied violin under Boris Sirpo in the Hood River Youth Orchestra along with his sister Patsy Annala and cousin Peggy Jakku Swafford. Jim studied music at Lewis and Clark College, earning a bachelor's degree in music education and performance in 1953.
As a young man Jim enlisted in the U.S. Navy, defending the free world armed with a violin and a French horn in Naples, Italy, during the Korean War. Jim then attended University of Portland, earning a master's degree in music performance in 1959.
Jim married pianist Evelyn Plog in the Immanuel Lutheran Church on Aug. 11, 1962. Their son, Carl Eino Annala, was born in 1964, in McMinnville, Ore., where Jim taught music and orchestra classes for the next 30 years (1960-1989).
Jim went on an amazing journey touring Europe as concertmaster with the Mid-Columbia Symphony in 1963. He was also concertmaster for the George Fox Community Orchestra for 30 years. Jim was also a member of the Portland Chamber Orchestra under Boris Sirpo. In McMinnville, many students and teachers appreciated his unusual sense of humor and inspirational demand for excellence.
A lifelong fisherman, Jim loved to troll Hagg Lake with friends. He had an appetite for all things Finnish. His favorite composer was Jean Sibelius.
Jim had a scholarly interest in Finnish politics of World War II and the Winter War. He was a staunch Democrat and a fantastic letter writer. Employing his dry wit, he often wrote charming letters to the editor. Teacher, stamp collector, music collector, "violin head," letter writing political humorist, gossip and entertainer, Jim will be missed by the many communities that adored him.
His wife, Evelyn Annala, sister, Patsy Annala, son, Carl Annala, and cat Amelia survive him.
A graveside service will be held March 16 at 1 p.m. at Idlewilde Cemetery, 980 Tucker Road, in Hood River, and a memorial service will be held April 6 at 11 a.m. at the First Presbyterian Church, 390 N.E. Second Ave., in McMinnville, Ore.
The family asks that his memory be honored by supporting music and art, taught at school or at home. Help a child to learn to read music or help an orchestra provide instruments to young musicians; thank you.
To leave private online condolences, please visit www.macyandson.com.

Condolences are being received online.