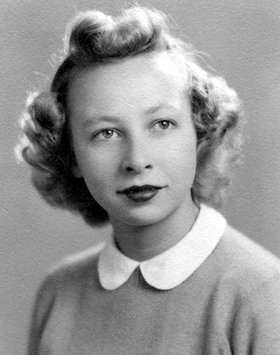 MaryAnn Scearce Hanners
February 6, 1924 - February 24, 2013
MaryAnn Scearce-Hanners, the only child of Dick and Dale Scearce, was born Feb. 6, 1924, in the old Hood River Hospital, downtown Hood River.
MaryAnn grew up in Hood River, graduating high school in 1942. She first chose the University of Oregon, for her freshman year of college, transferring to the University of California, Berkeley, where she graduated with a degree in social welfare in 1947.
While at Berkley, she was part of the war effort, working for United Engineering's shipyards, as a time keeper. It was while working there that she met her husband, Daniel Autrey Hanners. She had gone out to his ship, the USS Hampton, to collect time cards. It was love at first sight.
Daniel soon popped the question and a date was set for the wedding, Sept. 6, 1946. They needn't worry about the details; her mother, Dale, would plan it all, right down to the doilies, at the Columbia Gorge Hotel. MaryAnn looked divine in her wedding dress; Daniel looked grand in his officer's dress blues.
Time passed quickly: MaryAnn graduated U.C. Berkeley; Daniel, U.C. Davis. He exited the Navy, and they left California for her childhood home of Hood River. They rented a little house right across the street from the new Hood River Memorial Hospital, where children soon came to bless their home: First Holly, and then Gregg.
Life by this time had a good routine: Daniel was county assessor, and buying and selling real estate. He was also West Side Fire Department's first fire chief. Meanwhile MaryAnn was busy raising the kids and working for a local attorney.
Seven years passed, when much to everyone's surprise and delight, Richard was born. By now they no longer lived in that little house across from the hospital. Daniel was a banker, and had bought an orchard and built a new home, surrounded by green pastures and fruit trees — what a great place to raise a family. The children grew; MaryAnn was the center about which her family revolved: birthdays, holidays and parties of every kind.
Even after the children married, their mom and dad's was the place to go, and they were not the only ones who beat a path to their door: Seventy Eight, One Hundred Club and more folks than you can count were welcomed to their home. MaryAnn's hospitality was known throughout Hood River Valley, and beyond.
MaryAnn loved to travel. She went to, Canada, Europe and Asia, but was proudest of her participation in the Sister City program, and her trip to Japan. She enjoyed the Elderhostel program as well, and traveled to many places with this group. She was a member of the Columbia Fibers Guild and Grace Carter Weavers; her creations now residing in many of our homes. She loved to knit and sew, too.
MaryAnn took up the violin in her later years, traveling with her fellow fiddlers and bringing the pleasure of music to many.
MaryAnn passed peacefully from this life on Feb. 24, 2013, at Rock Cove Assisted Living in Stevenson, Wash., under the kind auspices of Hospice of the Gorge.
Gardner Funeral Home of White Salmon, Wash., took her into their care, and she was laid to rest at Idlewilde Cemetery in Hood River, beside the graves of her loved ones, on March 3. A simple graveside service was held, close family attending, as per her wishes, with Bob Huskey officiating.
MaryAnn will be missed by all of her friends, as well as her three children: Holly, Gregg and Richard; their spouses, George, Lesa and Linda; her seven remaining grandchildren: George Jr., Bridget, Stacey, Yvonne, Andrew, Stephen and Jennifer, as well as their spouses: Amber, Paul and Blair. Her three great-grandchildren, Balin, Xavier and Freya, may be too young to remember her, but we will tell them what a wonderful, gracious and loving lady their great-grandma was.
MaryAnn was preceded in death by her parents, Dick and Dale Scearce; her husband, Daniel Autrey Hanners, her granddaughter, Ashley Marianne Hanners, and her grandson, Matthew Autrey Hanners, all of Hood River.
A Farewell Prayer
Mom, we've come to say goodbye
I know you'd want us not to cry
But all our lives, we've looked to you
To help us know just what to do
Now you have left, to be with Dad
If that be so, then we are glad
You will be missed, and this we pray
We'll meet again some other day
Your passing brings our hearts such pain
And tho our tears may fall like rain
Yet we do know that God is good
And He still loves you, as He should
That He will keep you in His care
This is our everlasting prayer
— By Lesa L. Hanners