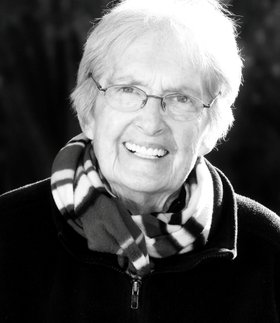 Jenny Copper
September 10, 1929 - March 25, 2013
Longtime Hood River resident Jenny Copper, 83, died at home on Monday evening, March 25, 2013. The daughter of Beatrice Cecila Krupp and Douglas James Harrington, she was born Jeannette Ellen Harrington on Sept. 10, 1929, in Bucoda, Wash. Jenny and her sister Joanne spent many growing up years at the home of her grandparents, Emil and Pearl Krupp, in Bucoda.
Jenny was preceded in death by her sisters, Peggy Mae and Joanne.
Jenny and her family moved to Hood River in 1945 where she attended Hood River High School. There she met the handsome president of the Letterman's club and football team captain, Don Copper.
After graduation Jenny attended Pacific University in Forest Grove, Ore. She continued her education receiving bachelor's and master's degrees in education from Portland State University.
Don and his "Jetty" were married in Hood River on July 16, 1949, and lived in Corvallis, Ore., while Don completed his education at Oregon State University. In 1950, the couple moved to The Dalles, Ore., and built their first home.
In 1955 the Coppers bought the "Old Sieverkropp Place" in Hood River, an orchard with a magnificent view of Mount Hood and bordered by the Hood River. Jenny always worked alongside her husband in the orchards; she drove tractor, changed irrigation water, fertilized the ground, pruned and thinned the trees, picked the fruit and drove the crop to cold storage.
She continued to work and manage the farm after Don's death in 2001 — often being recognized with "Top Grower" honors from Diamond Fruit.
Jenny's gift for teaching children was extraordinary. She worked in the Hood River School District for many years. Jenny will also be remembered for her ongoing dedication to community service. She was a member of many service boards and directed numerous service projects.
Jenny is survived by her five children: Tim Copper (Mary Beth), Penny Copper Pack, Candy Copper Roby (Doug), Daniel Copper, Jon Copper (Leslie), as well as 19 grandchildren and 24 great-grandchildren.
A celebration of Jenny's life will held at the West Side Fire Department, 4250 Barrett Road in Hood River, on Saturday, March 30, at 11 a.m. Lunch after the service will be provided by the fire department volunteers.
Remembrances may be made in Jenny's name to the West Side Fire Department.
Arrangements are under the direction of Anderson's Tribute Center (Funerals, Receptions, Cremations), 1401 Belmont Ave., Hood River, OR 97031; 541-386-1000. Please visit http://www.andersonstributecenter.com/book-of-memories/1528461/Copper-Jeannette/view-condolences.php to leave a note of condolence for family.