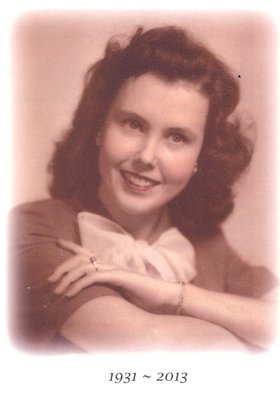 Juanita Henderson
February 27, 1931 - May 6, 2013
Juanita Henderson was born in Prescott, Ark., on Feb. 27, 1931, to Campbell and Willie McGuire.
She passed from this world to sing with the angels on May 6, 2013. She was surrounded at home by her loving family and she will be missed by all who knew her.
She met her husband of 62 years at Harding College in Arkansas. Obert says seeing her at the campus post office was the luckiest day of his life and he knew the first time he saw her that she was "the one". He states that she was the most beautiful girl he had ever seen, and she remained that way to him throughout her life.
They married on Sept. 1, 1950, in Prescott, Arkansas, and together had four children. She and her husband moved several times, following ministry opportunities, finally settling in Hood River, Ore,, where they have resided for the past 30 years.
Juanita was an active member of the Church of Christ, always willing to serve when there was a need. She taught children's Bible classes for years, participated in ladies events and could be counted on to provide a meal, a place to stay, or encouraging words to anyone who needed them.
She never felt the need or desire to work outside the home. She felt her calling was her family, church, and helping others.
Juanita was preceded in death by her parents. She is survived by her husband, Obert Henderson, her son Campbell (Andrea Mannen), son Brent (Cathy Talbott), daughter Karen (Ken James) and son Vernon (Dixie Hester). She has nine grandchildren and one great-grandchild.