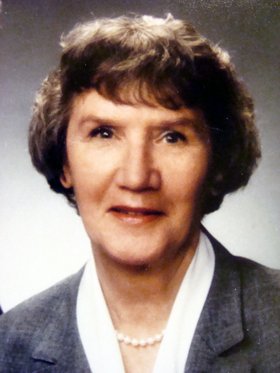 Genevieve "Gen" Weder Jernstedt
March 21, 1924 - May 14, 2013
Genevieve Weder Jernstedt, brightly known to her family, friends and many acquaintances as Gen, lived in Hood River for over five decades. This sadly ended May 14, 2013, with her passing at the age of 89.
Gen was born March 21, 1924, in Brooklyn, N.Y., to Charles and Helen Weder, who were later enthusiastic members of the Hood River community. She graduated from Baldwin High School at age 16.
Gen continued her education at George Washington University in Washington, D.C., before transferring to the University of Alabama and then Penn State University, where she studied Geography and Spanish, mastered Portuguese and French, and graduated summa cum laude in 1944. She was honored with membership in the Phi Beta Kappa Honor Society, National Social Science Honor Society and Alpha Delta Pi Sorority.
After college, Gen went to Caracas, Venezuela, in 1945, where she worked on behalf of the U.S. State Department as a confidential agent between the U.S. and Venezuela during the latter's rare three-year foray into pro-democratic government.
Upon her return, she became a University Fellow in Geography at UCLA, where she combined teaching with work as a copy editor at a local newspaper. (Those teaching and editing skills would pay extra dividends as she later lovingly raised her children through their Hood River school years.)
Determined to return to South America to continue putting her Spanish fluency to beneficial use, Gen was awarded a two-year Pan American Airways Travel Fellowship to Peru in 1947, where in Lima she was a teaching assistant to professors in Geography and Spanish.
Laughing that geography and travel were in her blood, she noted the seeds of her interests were in her long commutes from Freeport, Long Island, to New York City during her youth. Throughout her adult life, she explored the world, visiting 33 countries and every continent on the globe, except Antarctica; for which she had tickets for departure in her 80s before her health began to fade.
In 1950, Gen had returned to New York, married and went on to have three children, Jeff, Meredith and Laurie, before divorcing. Gen subsequently married Hood River's Kenneth A. Jernstedt following the passing of his wife, and moved to Oregon in 1962 to blend her family with that of Ken's, which included Ken, Kristi, Sybil and Greta.
Becoming known to the local community for her acerbic insights, independence and intelligence, she more importantly became known as Mom to the "Blended Seven" of the Jernstedt clan. In the decades that followed, she became known as "Gammie" to 21, and later yet, as a great-grandmother to eight.
Throughout her nearly nine decades, Gen remained a student of, and for, life. In her 40s, she earned her master's degree in Spanish at Portland State University, taught Spanish at Hood River and Wy'east high schools and led Community Education Spanish programs in Hood River. She served as a legal assistant and secretary for subsequently appointed U.S. Federal Magistrate Judge John Jelderks, sometimes utilizing her Spanish fluency to translate legal documents for clients and community members.
Throughout her working life, Gen was not afraid of hard work, even attempting to pack fruit with wrists previously fractured while roller skating with her children at Pine Grove Grade School!
For over 20 years, Gen worked beside her husband Ken as both an official and unofficial legislative assistant during his time in the Oregon House and Senate. She thoroughly enjoyed the legislative process, became deeply ingrained in the workings of Salem and offered her focus, intellect and energy for the benefit of her husband's district and the State of Oregon.
Further pursuing her interest in public service, Gen became the first woman to serve on the Hood River City Council, and was later appointed as a member and chair of the Oregon Board of Medical Examiners.
She also belonged to the American Association of University Women, Soroptimist International/Hood River, the informal Hood River Women's Golf League, and served, quite seriously, for the Republican Party as a precinct committeewoman. Always interested in politics, Gen made sure to cast her vote in the recent local election, just days before her passing.
Additional lifelong interests included reading, photography and family history. From an early age, Gen assembled detailed scrapbooks of her photographs, travels, family and experiences. None, however, were as prized as her albums of her children, grandchildren and great-grandchildren and their memorable times together.
Spending time in her garden also brought her great comfort and pleasure through the years, even though, at times, it was difficult for her to entice her children, and later grandchildren, into the fine art of dandelion-pulling, even at the then-"inflated" rate of one cent a pull.
A woman raised perhaps a generation or two too early, Gen spoke her mind when few others did, saw irony where others turned away, and attempted to educate others to world views and perspectives she had so well learned over a lifetime traveling beyond intellectual and physical borders. As a beacon for others likewise wishing to extend themselves beyond their own borders, Gen will always shine brightly.
Gen is predeceased by her husband of 50 years, Ken A. Jernstedt; her parents, Charles and Helen Weder; her sister, Lorrayne; her daughter Kristin Crossland; son-in-law Bruce Mason; daughter-in-law Sandra Reece Jernstedt and grandson Brandon Frigaard.
She is survived by daughters Sybil (Bob) Ford, of Springfield, Greta (Keith) Sheppard, of West Linn, Meredith (Kent) Frigaard, of Wilsonville, Laurie Mason and Rod Conklin, of Vancouver, Wash., sons Ken (Jill) Jernstedt, of Lake Oswego, and Jeff (Ann) Jernstedt, of Bend, and son-in-law Steve Crossland, of Cashmere, Wash.
She was proud of all 21 of her grandchildren: Erik, Matthew and Kaitlin Jernstedt; Ian (Wendy), Ben, Spencer and Nicole (Cam) Clennan; Seth, Joel (Shannon) and Paige Ford; Alec (fiancée Kelly Cianciotta) and Gretchen Jernstedt; Audrey (Jeremy) Forrest and Mark (fiancée Amy Keyser) Sheppard; Martin, Kegan and Griffin Frigaard; Michelle Jernstedt, Courtney and Cody Mason; and all eight of her great-grandchildren.
Our family greatly appreciated, and wish to extend heartfelt and special thanks for, the wonderful and dedicated care Gen received from her personal physician, Dr. Maria Czarnecki, Providence Hood River Memorial Hospital, Heart of Hospice, Hearts of Gold, and the CAT bus drivers and staff.
A memorial service will be held at 2 p.m. on Thursday, May 30, at Anderson's Tribute Center on Belmont Road in Hood River.
In lieu of flowers, the family suggests memorial contributions, in Gen's honor, to Hood River County Library, Hood River Valley Christian Church, or a charity of your choice.
Arrangements are under the direction of Anderson's Tribute Center (Funerals, Receptions, Cremations), 1401 Belmont Ave., Hood River, OR 97031; 541-386-1000. Please visit www.andersonstributecenter.com to leave a note of condolence for family.

Condolences are being received online.