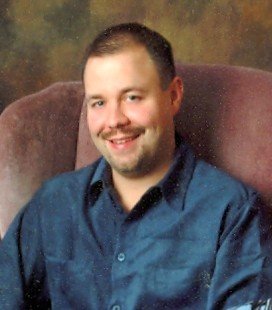 Randy Christopher Polzel
November 11, 1971 - May 13, 2013
Randy Christopher Polzel, 41, of Hood River, passed away Monday, May 13, 2013, at Providence Medical Center in Portland, Ore., after a courageous fight with pancreatitis. Randy was born Nov. 11, 1971, in Hood River, Ore., to Kathyrn J. Polzel and Gary L. Scoville. He received his education at Cascade Locks and at Parkdale Elementary and May Street schools in Hood River. He graduated from Hood River Valley High School in 1990.
Randy also continued his education that focused on his electrical interests and employment.
Randy had several part-time jobs while in high school, including pumping gas, working in the local mini mart, driving for a delivery service, merchandising for Frito-Lay and Nabisco, where he worked full-time. Randy went to work in the electrical supply field in 1994.
Most of Randy's adult life was spent in the electrical supply field. He always liked to help friends and family with electrical projects, and later in life, did most of the wiring in his own new construction home with the help from his family.
Randy learned to play chess when he was 5 years old, and loved to play against his mother, his "Uncle Joe" (who was a state champion) and then later with his son Austyn. He played the trumpet in both middle school and high school. He was immensely proud to pass his silver trumpet on to both of his sons, who both play the trumpet.
Randy played T-ball, Little League and Babe Ruth, and was also on the cross country team in high school. While in high school he took flying lessons at the Troutdale Airport, and in later years, was able to fly with his friends Darla and Russ. He enjoyed taking his son Austyn on plane rides in order to share his love of flying with him.
Randy and Brycen enjoyed watching football together. Their favorite teams were the 49ers and the Oregon Ducks.
He also had many other hobbies, including fishing, camping (thanks, "Uncle Joe") and boating (he always said a boat was a "hole in the water that you throw money into"). Randy also enjoyed target practicing and four wheeling in the mud and snow. In later years, it was an excuse to use it to find the "perfect" Christmas tree.
Motorcycles were another passion and he loved the many road trips he took with his friends. He also liked to dirt bike on the various mountain roads and even at the beach. Randy loved to ski and took Austyn up to the mountains many times to ski with him. Planning the annual trip to Mount Bachelor with friends Larry Foster, Don Wheat, and Chris Shutes also brought great joy for him. He also enjoyed playing golf and pool.
Randy collected music all his life. He had an extensive baseball cap collection (most of which are the 49'ers or Oregon Ducks). Anyone who knew him rarely saw him without a baseball cap on.
He had a great sense of humor and was quite the prankster — skills that he honed and fine-tuned with his best friend Ashley when they were young, and continued on all through his life. He certainly loved to make people smile.
Holidays were very special to Randy — especially Halloween and carving pumpkins with the boys. Great times were had at Rasmussen's picking out the "perfect pumpkin," the corn maze, caramel apples, etc. At Christmas time, Randy loved to help with the outside lights (just for Austyn).
Randy also enjoyed cooking — and was pretty good at it! He liked to experiment and came up with some delectable recipes. He enjoyed "flipping pancakes" for the Lions Club also (while Austyn, a Leo, assisted him).
Early on, Randy had an interest in pyrotechnics with which he found a perfect outlet when he became a member of the Lions Club Pyro Crew that set up and set off the Hood River Fourth of July fireworks. They also did the fireworks at football games and graduation at the Hood River Valley High School.
He is survived by his mother, Kathryn; sons Austyn and Brycen, of Hood River; maternal grandparents Les and Gladys Polzel, of Klamath Falls, Ore., paternal grandmother LaVonne Scoville, of Youngtown, Ariz., and half-sisters "Chennie" Wright of North Venice, Fla., and Shelley Celtier, of Cottonwood, Calif.; and many aunts and uncles, cousins, nieces, nephews, and a host of other family and many, many friends that he has collected over his lifetime in Hood River.
Preceding Randy in death is his much beloved aunt Leta (Polzel) Wood, maternal grandmother, Edna Polzel, and paternal grandfather, Ross Scoville.
Randy had such an eclectic interest in so many things. He truly loved his family and his friends. But, his greatest love is his sons, and his greatest pride was in their character, their intelligence and their accomplishments. They are his legacy!
Services are planned for 6:30 p.m. Tuesday, June 4, at Anderson's Tribute Center. Family friend Bob Huskey will lead Randy's service.
Arrangements are under the direction of Anderson's Tribute Center (Funerals, Receptions, Cremations), 1401 Belmont Ave., Hood River, OR 97031; 541-386-1000. Please visit www.andersonstributecenter.com to leave a note of condolence for family.

Condolences are being received online.