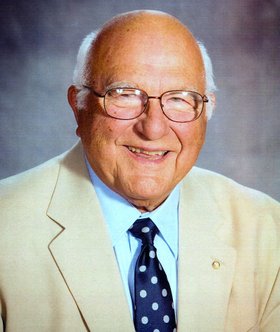 Donnie "Don" Lee Hosford
November 12, 1930 - May 10, 2013
Donnie Lee "Don" Hosford passed away on May 10, 2013, in Hood River, Ore., following a terminal liver disease. His loving friends and family were by his side at the time of his passing.
Don was born in North Platte, Neb., in 1930 to Aubrey and George ("PoPo") Hosford. He was joined by his sister, Darlene, in 1932. Growing up in the Depression era brought its challenges, though Aubrey and PoPo made sure that their children never went without as they were such loving and generous parents.
As a baby, Don's talent was first realized when he took first place in a baby contest. The prize was a painted portrait of Don, which was resurrected out of storage in the 1960s and still hangs in the Hosford household today.
Fast-forward to 1947: The Hosford family moved to Oregon City, Ore., where Don entered Oregon City High School as a senior. He joined the varsity football team and his football talent was obvious to the head coach and Don immediately gained varsity status. That same year, he was granted a full-ride football scholarship to Willamette University in Salem, Ore.
Red-shirted his first year gave Don the opportunity to play four full football seasons following his freshman year. In his junior year, he had gained status as the most-improved lineman in one year and lettered as a first-string tackle for three of his four years at Willamette.
Don's college career included more than just four victorious football seasons; he also was a member of the Freshman Glee, Sigma Chi Fraternity, Future Teachers of America, American Alliance of Health Physical Education and Recreation as well as a member of the Letterman's Club.
Don also served in the Oregon National Guard while attending Willamette (he enlisted in 1948 and received honorable discharge status as a Sergeant on June 21, 1957).
In the spring of 1952 Don graduated with a Bachelor of Arts degree in physical education and a minor in public speaking; yet went on to play his final and most successful season of football at Willamette in fall 1952.
Following his graduation from Willamette, Don immediately started his coaching and teaching career at Bandon, Ore. There he accepted the post as assistant varsity football coach, junior varsity basketball coach and also taught biology, science and physical education. The following year he was whisked away by Sheridan High School to take on the position as head varsity football coach.
It was there that he met the love of his life, Virginia Johnson. Virginia had just graduated from the University of Oregon and had selected Sheridan to start her teaching career. It took only three short months for Don and Virginia to realize they were a perfect match for each other. Six months later, Don and Virginia were married on July 8, 1956, in Hood River, Ore.
At that point, Don had already led three out of four teams to league championships, and was becoming known in the state of Oregon as a winning football coach.
In fall of 1957 Don and Virginia decided to make Hood River their home so Don could take over the helm as head varsity football coach for the Wy'east Golden Eagles and also teach biology and science, while his wife Virginia accepted the post at Parkdale Upper Elementary.
While coaching at Wy'east, Don produced championship teams in the tough Wilco League Conference in both 1958 and 1960. While he was busy with his football coaching and teaching jobs, Don also made time to develop the first wrestling program at Wy'east, which still continues at Hood River Valley High School today.
Following their wedding, Don and Virginia decided to spend their honeymoon in Sun Valley — "killing two birds with one stone" — Don was also able to attend a coaching conference while they enjoyed the breathtaking Sun Valley recreation area.
Following their honeymoon, Don returned to Hood River to continue his success year after year at Wy'east; the most impressive year was 1962, when Don's Wy'east Golden Eagles championed the Wilco league and went on to the state championships, something Wy'east had not accomplished in a decade.
If that weren't exciting enough, Don and Virginia welcomed their son Mitch in 1959 and their daughter Carol into their home just two years later.
In 1962 Don was offered the head football coaching position at Gresham High School, a position he just couldn't refuse. So Don and Virginia and their children Mitch and Carol moved to their new home in Portland, Ore.
Don continued his success as a head football coach for Gresham High and in addition, managed to make time to serve as a foreman of the task force project to build Oxbow Park in Troutdale, Ore. Today, this park continues to be enjoyed by youth and families alike.
In 1965 Don decided it was time to change careers as he had been offered an opportunity to open the first State Farm Agency in Hood River, which brought the Hosford family back to Hood River — this time it was for good! Within his 30 years with State Farm, Don enjoyed serving the community. His amazing career as a State Farm agent ended with his retirement in 1995.
Following retirement, Don and Virginia enjoyed traveling — from Cape Cod, Maine, and the Florida Keys, to many European countries, Canada, Tahiti, and many states within the U.S., including Louisiana, Hawaii and Alaska.
Their travels also included visiting many of the famous Great Lodges in the U.S. They so enjoyed seeing the world and squeezed in as much travel as possible throughout their busy lives. Don, an avid Duck fan, said he was "a Duck by marriage," which took Don and Virginia to various Bowl games around the country including, Indiana, Texas, Wisconsin, and California.
A special memory for Don was when he attended the Rose Bowl in 2012 and the Ducks beat Wisconsin — "Go Ducks!"
After living in Hood River for 40-plus years, Don knew he could put his knowledge about the culture of the Hood River Valley to work, and he did. In 1996, Don decided to run for the Hood River Port Commission. He received the most votes! In fact, he was re-elected for a total of four terms (12 years, which included one year as president of the port commission).
The Port ended up being a perfect match for Don, as he truly cared about the community of Hood River, and how the new sport "windsurfing" was changing the dynamics of the community. His main goal was to ensure jobs for the community while at the same time, welcoming tourists to our beautiful city.
After traveling to Washington, D.C., many times to lobby for the much-needed funds to improve the water front, he accomplished what he had set out to do: create jobs for the community and develop a place that can be enjoyed by Hood River community and tourists alike.
Don was very active in the Hood River community but also very active in a number of civic organizations, including the Hood River Elks Lodge, where he served on the ritual team and later as Exalted Ruler, and the Hood River Rotary Club, where he was not only an active member who exemplified "service above self," but was also a past president.
When Don retired from the Port in 2009, it was bittersweet. He knew there was so much more to do, yet his health was failing and he felt it was time to pass the baton to someone else to take the helm and continue amazing improvements to our beautiful waterfront.
Following his retirement from the Port, Don received a Key to the City of Hood River for his 50 years of dedicated service. Truly a wonderful gift and honor that Don and family will cherish for many years to come.
Don is survived by his son, Mitch Hosford, and daughter-in-law, Barbara, of Hood River; daughter, Carol Gachen, and son-in-law, Loren, of San Rafael, Calif.; sister, Darlene Miller, and brother-in-law, John, of Tucson, Ariz..
Also surviving are his nephew, Scott Miller, and his wife, Suzi, of Highlands Ranch, Colo., and their children: Courtney Gabriel and her husband, Nick, of Glenwood Springs, Colo., their son, Matthew, of Denver, Colo.; niece Michelle Bates and her husband, Mike, of Oakland, Calif., and children Alec and Emily; niece Stacy Stratton and her husband, David, of Houston, Texas, and their children Brandon and his wife, Michelle, of Houston, Texas, and Amanda Stratton of Houston, Texas; brother-in-law, Don Johnson; and nephews Doug Johnson and Dan Johnson both of Vancouver, Wash.
A time to celebrate Don's life and mourn his passing is planned for 2 p.m. Saturday, June 8, at Hood River Valley Christian Church, 975 Indian Creek Road. Private family services at Pine Grove Butte Cemetery will precede Don's celebration at Valley Christian Church.
Arrangements are under the direction of Anderson's Tribute Center (Funerals, Receptions, Cremations), 1401 Belmont Ave., Hood River, OR 97031; 541-386-1000. Please visit www.andersonstributecenter.com to leave a note of condolence for family.

Condolences are being received online.