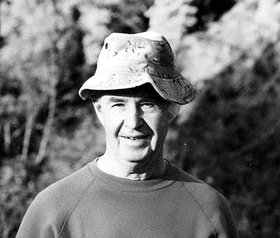 Eckard Vance Toy Jr.
March 19, 1931 - October 7, 2013
A Gentle Man Passes
Parkdale resident Eckard Vance Toy Jr., 82, died Oct. 7, 2013. Born on March 19, 1931, in Longview, Wash., to Eckard Vance Toy and Mary Watkins Toy, he spent his early years in the Chehalis and Portland areas.
A precocious child, 5-year-old Eckard entertained his elders (and irritated older cousins) by demonstrating his aptitude for spelling state names.
In high school he covered all seasons playing football, basketball and baseball. His local basketball team proudly lost to the touring Harlem Globetrotters in an exhibition game.
As a youth he delivered newspapers, worked in a paint store and later pulled lumber on the green chain.
He attended Centralia Junior College and briefly played minor league baseball. On Flag Day 1951 Eckard enlisted in the U.S. Army and dined on K-rations in the snow-dusted woods of West Germany and trained soldiers for duty in the Korean Conflict.
After honorable discharge, Eckard used the GI Bill to attend Oregon State University, where he accepted a blind date and met Pat Struck, the love of his life. They married at the Parkdale Community Church on Sept. 9, 1956.
Eckard taught for two years at Estacada High School before continuing his education at the University of Oregon earning master's and doctorate degrees in American history.
The burgeoning Civil Rights Movement and the McCarthy hearings, combined with his timely discovery of Ku Klux Klan artifacts in Tillamook, Ore., deeply influenced his choice to study the history of race and ultra-conservatism in the Pacific Northwest.
The author of numerous articles and book chapters, Eckard's scholarship remains at the forefront of the field and continues to impact historians. A contributor to the digital Oregon Encyclopedia, his article on the Ku Klux Klan garnered the most online hits of any offering on its site for several years running.
Eckard received awards for his scholarship from the Washington State Historical Society and for his teaching from the University of Oregon. He taught at a number of universities and colleges in the Midwest and West.
In later years he was involved with the Oregon Chautauqua programs through the Oregon Council for Humanities and occasionally served as ship's historian on cruises on the Columbia River. People were drawn to the controversial subjects of his lectures, where Eckard informed and entertained audiences with a preacher's inspirational conviction and used his quick wit to pepper his talks with humor.
He always enjoyed watching the living panorama of Mount Hood from the family home in Parkdale. His intellect remained sharp and he was actively researching family history and working on articles for publication until the last few months of his life. It was his sincere hope that his work would endure and inspire others to appreciate the importance of history as it colors and shapes our culture, communities and lives.
As a father Eckard was known for crooning "April Showers" at bedtime, road trips punctuated by frequent stops at historic byways, and for loving his daughters no matter what. He was especially proud that all of his grandchildren graduated from college, and are pursuing their personal career and life choices.
Eckard is survived by his wife, Pat; daughters Terry J. Covington and Kelly Dittmar (Dave); granddaughters Alex, Rebecca and Kelsey Covington; grandson George Dittmar; his sister Betty Logan (Jim); and numerous other relatives and friends.
Memorial remembrances may be made to the charity or institution of your choice.