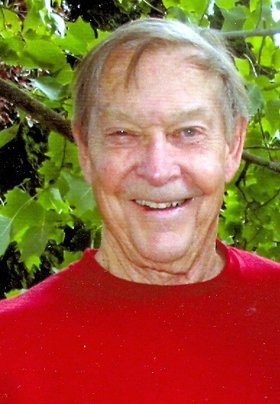 Carroll Leslie Davis
February 8, 1929 - January 5, 2014
Carroll L. Davis died on Jan. 5, 2014, due to complications associated with heart surgery. His last days were spent at his home on Eastside Road in the Hood River Valley, Ore., under the care of his family (with assistance from Hospice of the Gorge).
Carroll Leslie Davis was born in the pear and walnut producing valley of Lakeport, Calif., on Feb. 8, 1929, a third-generation Californian. His parents — Helen Mundy, an elementary school teacher from Redding, and Barney Davis, of Chico, principal at Lakeport Elementary School — also operated a small walnut orchard, where Carroll put in many hours of labor.
The hills around Clear Lake, along with the lake itself, sparked his early interest in the natural world. After high school, he remained at home a year to help his recently widowed mother with the farm.
Carroll attended Oregon State College (now OSU), graduating with a bachelor's degree in zoology in 1953. These years acquainted him with Oregon's mountains, its coast, and its birds and plants, and also introduced him to skiing and mountaineering (through the OSC Mountain Club). All of these subjects and activities held his interest throughout his life.
Following two years in the U.S. Army Medical Service, Carroll completed a secondary teaching credential at UC Berkeley. He met Joan Lorraine Worley on a skiing trip with a mutual friend, and they married in January, 1957. Daughter Nancy was born later that year and son Bob arrived in 1962.
Carroll taught for seven years in California high schools. He earned a master's degree in biology from OSC in 1963. In 1966, after Carroll accepted a position with the Hood River County School District, the family moved to Hood River and established residence on Eastside Road.
Carroll taught four years at the old high school on May Street and then moved to the new high school in 1970. His classes included basic and advanced biology, health and environmental studies. He was an energetic and inspirational teacher, and several of his students went on to establish themselves as scientific researchers and professors.
He retired from teaching in 1991. After retirement, he substitute taught for more than 10 years and led several natural history and hiking tours of the Gorge.
During the 1970s and '80s, Carroll maintained active membership in the Hood River Alpinees search and rescue group, the Sierra Club, the Mazamas and the American Alpine Club. Carroll organized and led the Hood River (Valley) High School Mountain Club for about 19 years. This group taught basic mountaineering and outdoor skills in the Gorge and Cascades, and some of its members went on to become accomplished mountaineers.
Carroll's interest in running for physical fitness led to his helping to organize the Mid-Columbia Track Club and local races, including the Joe Kollas Fourth of July Memorial Run.
Carroll served on the Hood River Planning Commission in the early 1970s, the Hood River County Park Committee, and the Citizens Advisory Committee on Development of the Comprehensive Plan. He was a very active member of the Columbia Gorge Coalition, which was instrumental in establishing the Columbia Gorge Scenic Area.
He led the committee responsible for landscaping the new high school and planned and directed development of the HRVHS Fitness Track System, adjacent to the Indian Creek Trail System. He was an active member of the Pine Grove Fire Department for 14 years.
In later life, he enjoyed travel with Lorraine (including several journeys on the Mississippi River and its tributaries and trips to Greece, Italy, and the Middle East), he continued outdoor excursions (to the Gorge, Cascades, Nepal, Patagonia and elsewhere), and he organized and participated in active discussions of philosophy and current affairs with his Hood River friends.
He was especially concerned with changing climate and chaotic weather and how it would affect future generations.
Son Bob married Jane Pagliarulo in 2006 and their daughter, Marina, was born in 2007. Carroll and Lorraine delighted in spending time with their extended family. Carroll is also survived by his brother, James, of Riverside, Calif., and his niece, Caroline Hurd (and her family) of Stafford, Va. Jane, Bob, Caroline, Jim, and Lorraine took care of Carroll during his last days.
Daughter Nancy was stricken with malignant multiple sclerosis in 1982 and Carroll and Lorraine dedicated much of their time to managing her affairs, visiting her in Portland, and bringing her home for short visits. Nancy died in 2009. Carroll was primary caregiver for Lorraine as her memory loss problems worsened; she is now living in Portland with Bob and Jane.
No public services will be held; interment will be at Pine Grove Butte Cemetery. A celebration of Carroll's life will occur in early spring, 2014; details are forthcoming. Memorial donations may be made to the Alpinees/Hood River Civil Air Patrol Outdoor Education Fund (through the Gorge Community Foundation).
Carroll's family would especially like to thank Kathy Bullack, whose knowledge and kindness were key elements of the hospice process.
Carroll Davis
A gathering to remember and celebrate the life of Carroll will be held on April 12 from 1-4 p.m. at Riverside Community Church, at Fourth and State streets in Hood River. The public is invited; light refreshments will be available.
Attendees are encouraged to bring memories to share via an open microphone.
Arrangements are under the direction of Anderson's Tribute Center (Funerals, Receptions, Cremations), 1401 Belmont Ave., Hood River, OR 97031; 541-386-1000. Please visit andersonstributecenter.com to leave a note of condolence for family.

Condolences are being received online.