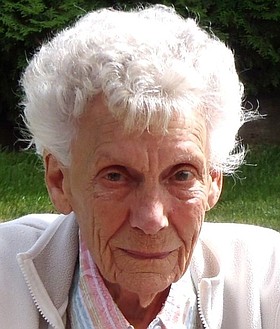 Betty Williams
June 25, 1922 - September 29, 2015
Betty Williams, 93, of Coos Bay, Ore., passed away on Sept. 29, 2015. She was born June 25, 1922, in Ostrander, Wash., to Walter and Laura Duddles.
Betty grew up, married, and had her children in the Hood River, Ore., area. She moved to North Bend, Ore., in 1952 and was a longtime employee of GTE.
She is preceded in death by her husband, Carl, and son David Jay.
Betty is survived by her son Frank (MaryJane) and their children David and Dawn; daughter Gladys Thrash (Jerry), son Merle, and brother Gordon Duddles. She also leaves behind many nephews and nieces in the Hood River/Portland area.
No services are planned at this time in the Coos Bay area. A memorial service will be held later this year at Pine Grove Cemetery in Hood River, Ore.